How re-sanding can prolong the life of your block paving
One of our most commonly requested services is to create block paving driveways and patios. What makes block paving so popular is its longevity and strength. When it's laid by professionals block paving is a much stronger surface than concrete on its own, and with proper care and maintenance, it could last a lifetime.
Pressure washing occasionally is strongly recommended to prolong the life of block paving. As well as removing stains such as grease, mildew and the general dirt from foot traffic which builds up over time, using a jet washer also removes any weeds which can do some major damage to block paving. The weeds can distort the blocks by pushing them out of alignment or even raising them up. The result is an uneven and unsafe surface which looks unsightly, becomes a trip hazard and may even damage your tyres.
Block paving which has damage due sinking and moving can be easily repaired, but it's important to note however that this damage is not inevitable. It's caused through neglect. But just a little regular maintenance can make a huge difference and keep your block paving stronger for longer.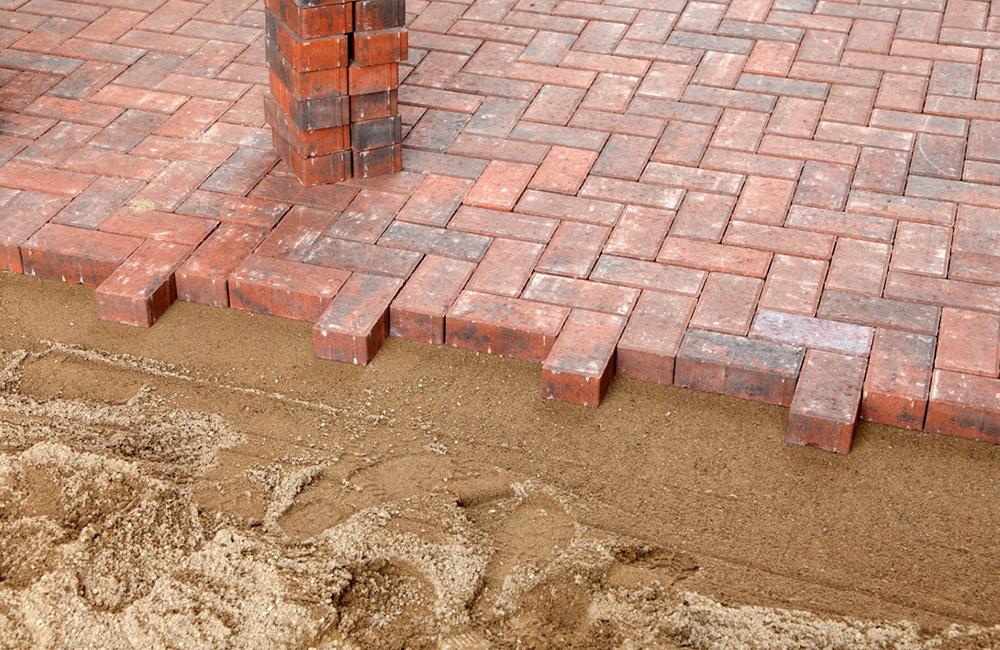 However once block paving has been cleaned to remove the weeds and other debris, your work is not done. A critical but often overlooked stage in the cleaning of block paving is the re-sanding process.
The sand which fills the gaps between the blocks is essential as it prevents water from penetrating the surface and locks the blocks in place to stop them from moving and sinking which is what can cause the surface to become uneven.
Re-sanding is important to the proper maintenance of block paving as it fills the gaps between the blocks which over time becomes worn due to various factors such as weed growth, exposure to the elements and even jet washing.
After the paving has been washed and swept clean, the next step is to make sure that you have the right kind of sand for the job. Kiln dried sand is the best choice to re-sand block paving. It's a very fine type of sand that is kiln dried to remove any excess water and it's ideal for packing tight into the gaps.
Spread the sand over the surface and carefully use a broom to brush it between the cracks until they are filled with the sand. It's imperative to make sure that all the cracks are completely filled, so take your time and make sure that you haven't missed anything. If there's any leftover sand once you have finished, it can swept up and stored to use another time.
Finally, the surface will need to be sealed – ideally with a polyurethane paving sealer to harden the sand and keep it in place. The end result will leave your block paving driveway or patio looking as good as new. Clean, even and free from weeds.
Our team at UK Surfacings are experts when it comes to block paving driveways and patios. We have years of experience in creating and repairing block paving, including re-sanding in Surrey and Sussex. Contact our friendly team today on 0800 859 5354 or email info@uksurfacings.com to ask for your FREE, no-obligation quote.