Do you require first-class driveway construction in Redhill, Surrey? Best quality surface installed
A well-laid driveway will boost your home's aesthetic appeal and be enjoyable to use.
We are leading driveway and surfacing contractors working throughout Redhill or Merstham. We apply rigorous construction techniques and only use the best quality materials to provide exceptional results.
Our paving landscapers and driveway construction team has a wealth of experience and expertise, and we provide surfaces for both the residential and commercial markets. Alongside all new driveways, we can install professional tarmac surfaces for car parks, playgrounds and roads. No job is too big or small for our team. All jobs are always completed on time and within budget.
We can offer a variety of materials to suit all applications, including tarmac and asphalt, resin, gravel, block paving, and more. These are designed to withstand heavy traffic usage and are fantastic to look at.
Local, trusted & reliable surfacing company
£10million AXA Public Liability Insurance
Free quotes and consultations are available
No sub-contractors used
Qualified & experienced team
With its attractive Victorian buildings, Redhill has been named as one of the best places in Surrey to live. If you would like to smarten up your Redhill property, please get in touch.
To learn more about our team, please call on 0800 859 5354.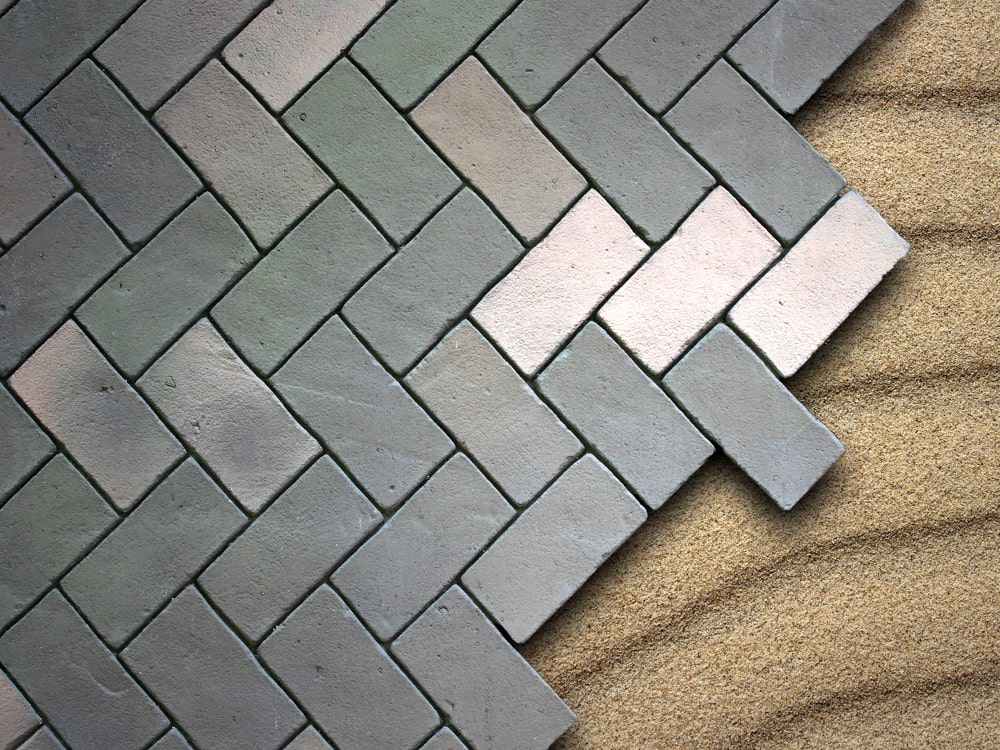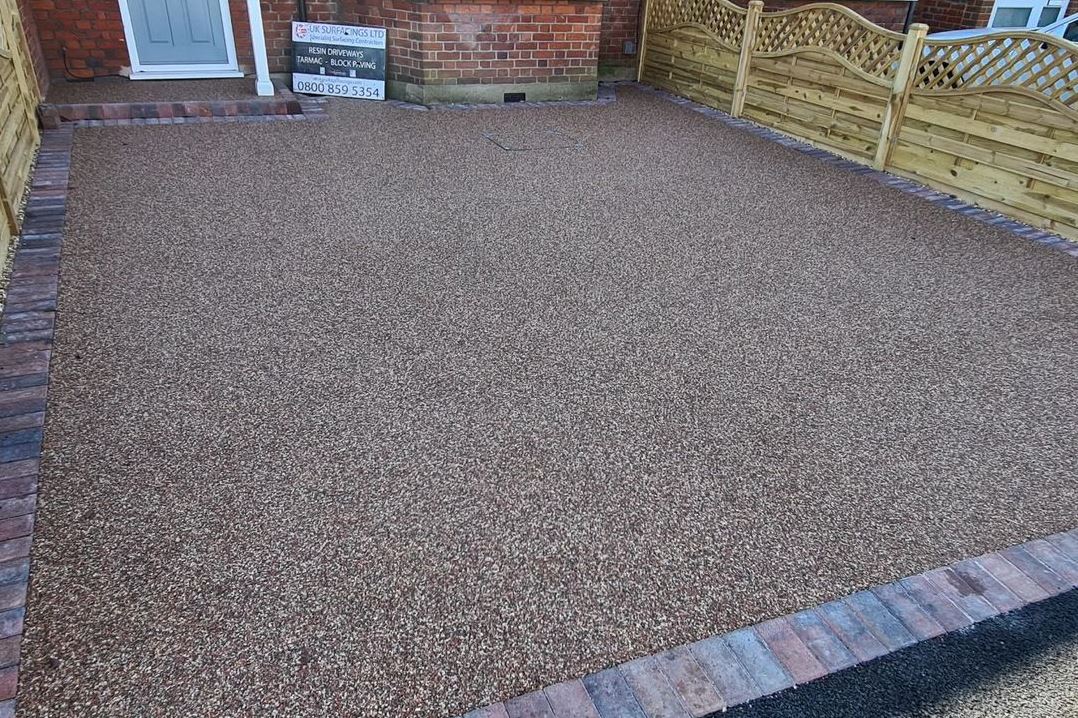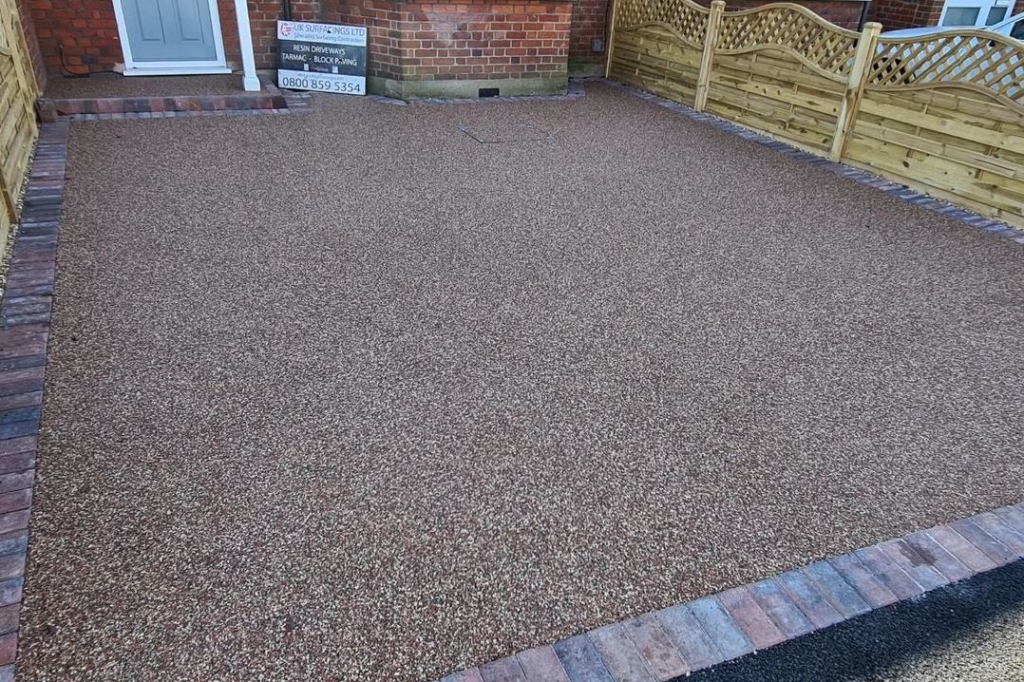 Why choose a new resin-bound driveway installation in Redhill, RH1?
Resin-bound surfacing is becoming increasingly popular and is now one of the top choices for driveways in Redhill. It is 100 per cent porous, meaning that no other drainage is required, and it is also anti-slip, so it is ideal for wheelchairs and families with young children.
Resin-bound surfaces can be laid on top of existing concrete or asphalt surfaces. They are also extremely attractive and come in a wide range of colours, according to the different aggregates used. Engineered to last for years or even decades, all our resin-bound driveways come with comprehensive guarantees for your complete peace of mind.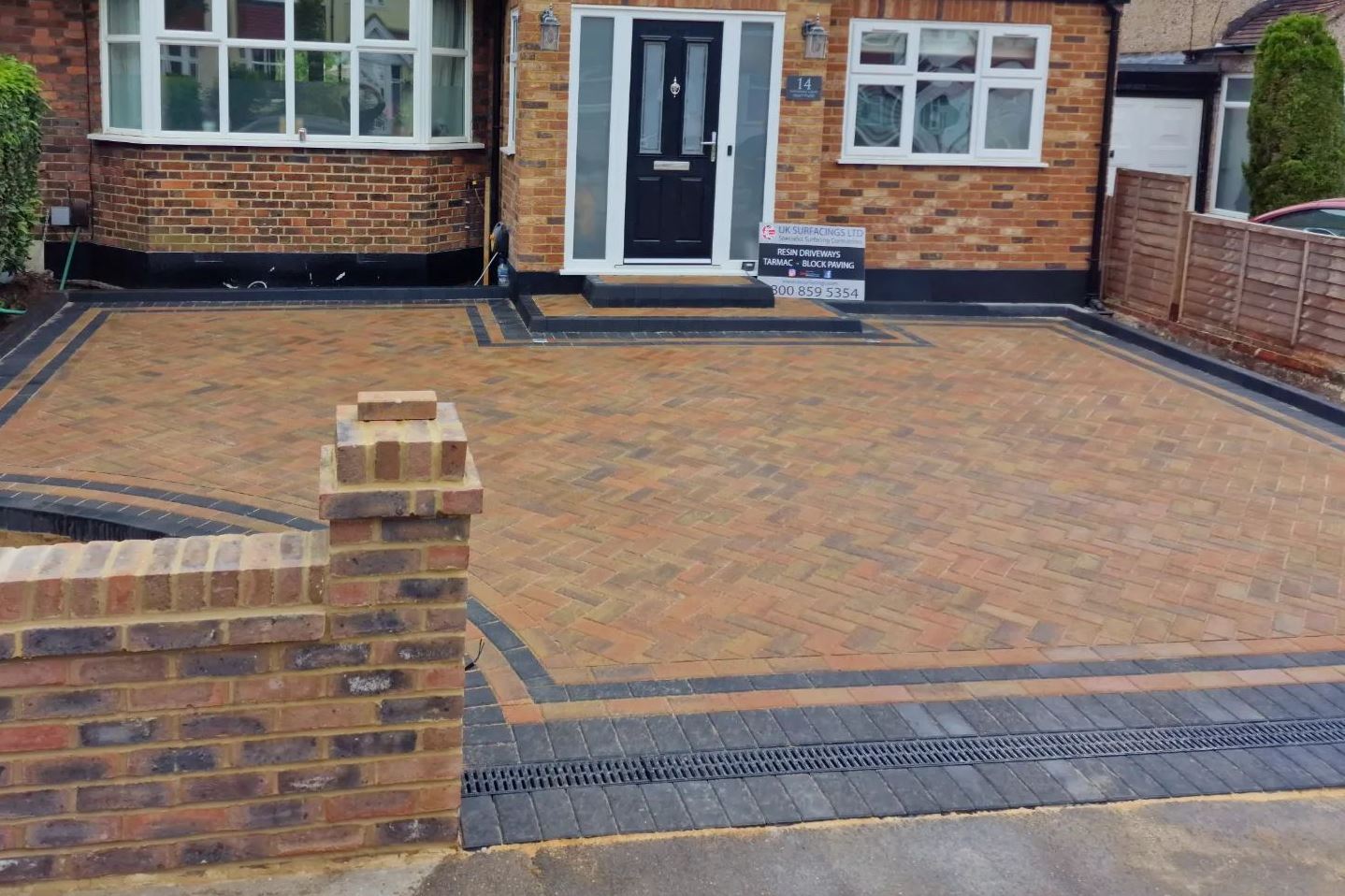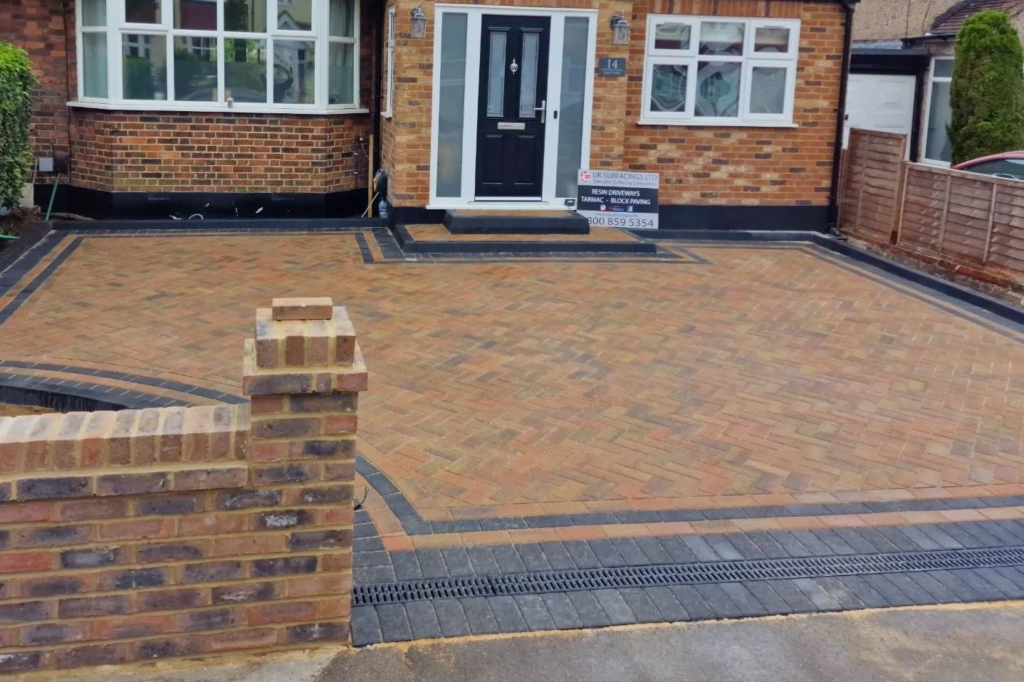 Decorative Redhill block paving driveways installed
Block paving driveways are constructed with blocks of concrete or clay. Our paving landscapers in Redhill can install driveways with versatile design options and longevity. So whether you are looking for a new driveway for your home or large commercial property, our block paving installers can help. They can create a modern and deluxe image and add value.
Our block paving driveways are available in a wide range of colours and designs, and design changes and repairs can be made more quickly than other materials. The blocks are unaffected by frost, UV, and most chemicals and can be laid in any condition.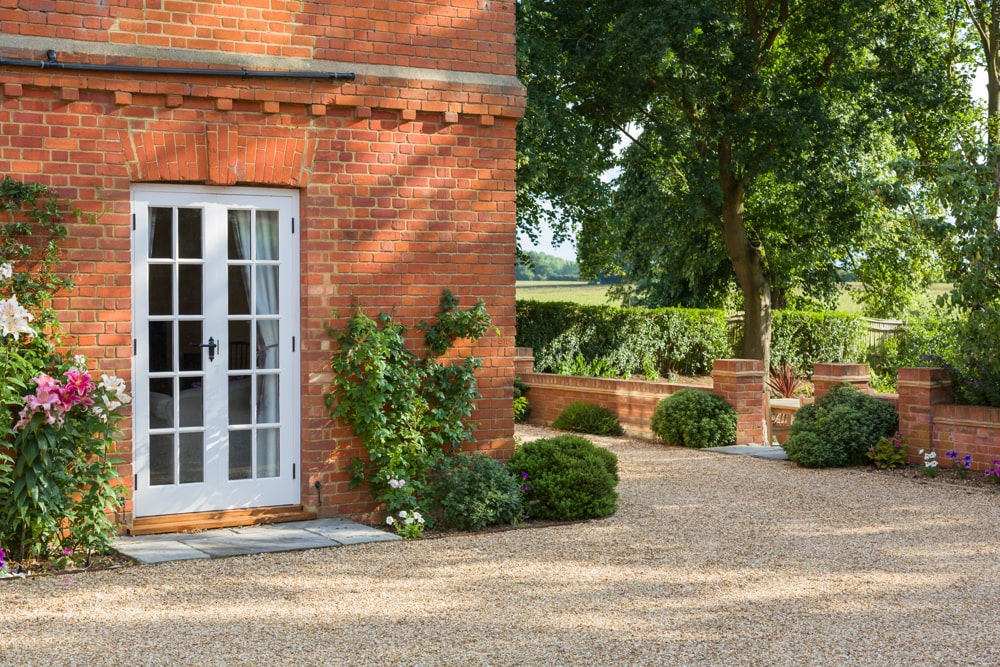 Would you like a new gravel driveway in Redhill?
If you want to refresh your driveway in Redhill, a new gravel driveway could provide the perfect solution. Our expert team of gravel driveway installers will always ensure that your project is completed quickly and efficiently with minimal disruption.
Gravel driveways have long been considered one of the most affordable options for driveways, and they are perfect for covering large spaces. They are also easy to maintain and practical and can add value to your property. In addition, gravel is able to withstand all temperatures and is porous, eliminating drainage concerns.
Top-quality tarmac or tarmacadam driveways in Merstham
Tarmac has long been considered one of the most practical, durable, and attractive driveway surfaces in Merstham or Redhill. It can have an extremely long lifespan of over 25 years in typical domestic conditions, so it is always functional and can withstand extreme weather conditions.
Although predominantly used for road surfaces, tarmac or asphalt can also provide a hard-wearing and attractive finish, and maintenance is easy; all your driveway may need is an occasional sweep or pressure wash to keep it looking good.
Tarmac or tarmacadam can also be laid over other surface materials, making your driveway installation quick and easy.
Expert tarmac restoration and commercial tarmacing services in Redhill
Do you require professional tarmacing services in Redhill? We have over three decades of experience working with tarmac and regularly installing and repairing tarmac surfaces on car parks, playgrounds, roads, footpaths, patios, and forecourts.
Our team offers a combination of expert technical skills, experience, and the right equipment to tackle commercial tarmac restoration and re-surfacing projects of all descriptions and sizes. We are familiar with working in many different environments, including highways, industrial sites, commercial offices, and other spaces.
Read our blog: The best uses for tarmac.
Looking to refresh your driveway in Redhill? Call our driveway contractors now
We guarantee customer satisfaction on all new driveways in Redhill. Please call 0800 859 5354 or email info@uksurfacings.com
Browse our services below to see what we have to offer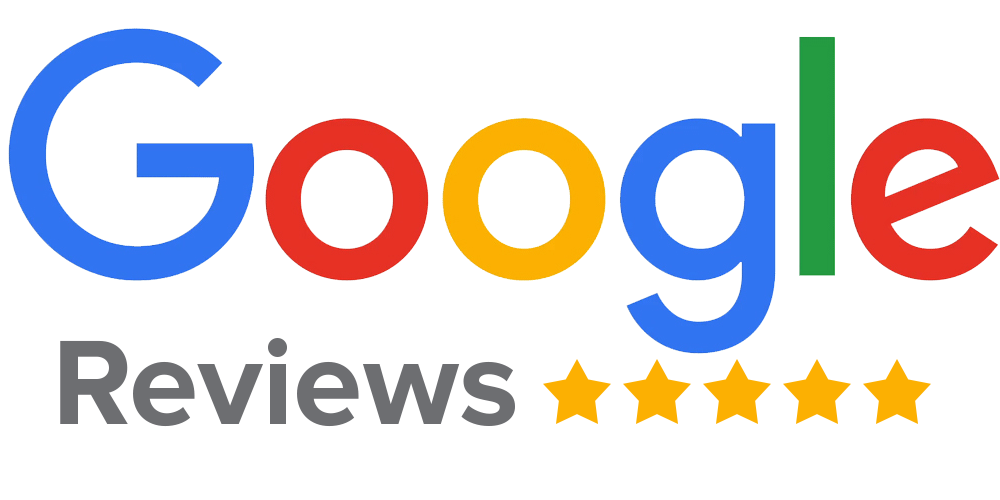 "Thank you for the job you did resurfacing our drive with tarmac. It looks really good and we were impressed with your team of workers. They work hard throughout the time they were here and prepared the ground well before the tarmac was laid. They dealt with all the details like manholes and edges and left the site clean and tidy."
"Superb job done to restore my crazy paving. Tony and his team were excellent. I will definitely use UK Surfacing again. Highly recommended :)"
"Excellent workmanship, great people to deal with – a decent family business. Lovely team who were tidy, courteous and professional. The Tarmac world seems to be rife with less than professional companies but UK Surfacings stand out for all the right reasons."
"Brilliant job! Tony kept me updated the whole way from start to finish! Big thank you to his team for the job they've done on my driveway. Absolute pleasure to deal with! I'll definitely recommend their services!"
"Excellent, professional job. Very happy with the end result – our garage entrance is quite a slope – so extra care, attention and effort was required to lay the asphalt well. All clearing and preparation of the slope was done quickly and efficiently. The 'team' were great and got on with the task in hand. (offer of couple of 'cups of tea' – that always helps too : ) I would recommend them very highly."
"Excellent service. Will definitely use again."
"Excellent service, I would highly recommend!"