Top surfacing contractors for driveways and surfacing solutions in Reigate, Surrey
Here UK Surfacings Ltd., we are paving landscapers and surfacing contractors that provide surfaces for residential and commercial premises in Reigate and Chipstead that are designed to last. We have been delivering exceptional standards for many years, and our highly skilled surfacing installers have extensive training and expertise.
Whether you are looking for a new driveway, driveway restoration, or commercial tarmacing services, we are well equipped to handle projects of all sizes, from single homes to housing estates and large roads.
From the moment you first contact our team, our surfacing contractors will ensure that you have the surface that best suits your needs.
We will design your dream finish and work with all materials, including gravel, block paving, tarmac, resin, and more.
We can give you a clear and transparent quote for a new driveway or surfacing project with no hidden costs and clear timelines that will always be met. In addition, we offer exceptional health and safety standards and hold £10million AXA Public Liability Insurance for your complete peace of mind.
Reigate is a thriving and pretty market town with many different types of properties.
We can find solutions for driveways of all shapes and sizes. Please read our blog: Solutions for a steep driveway.
Are you interested in new driveway construction or another surfacing solution? Please call us now on 0800 859 5354.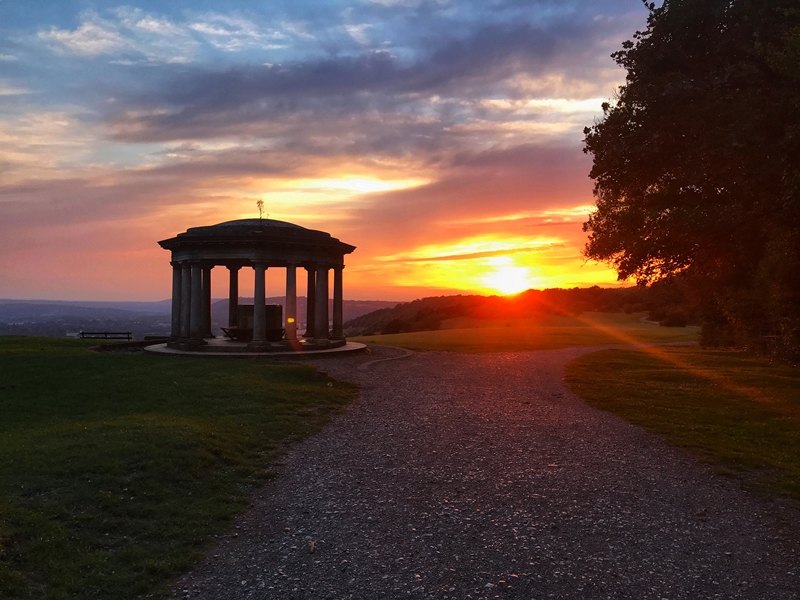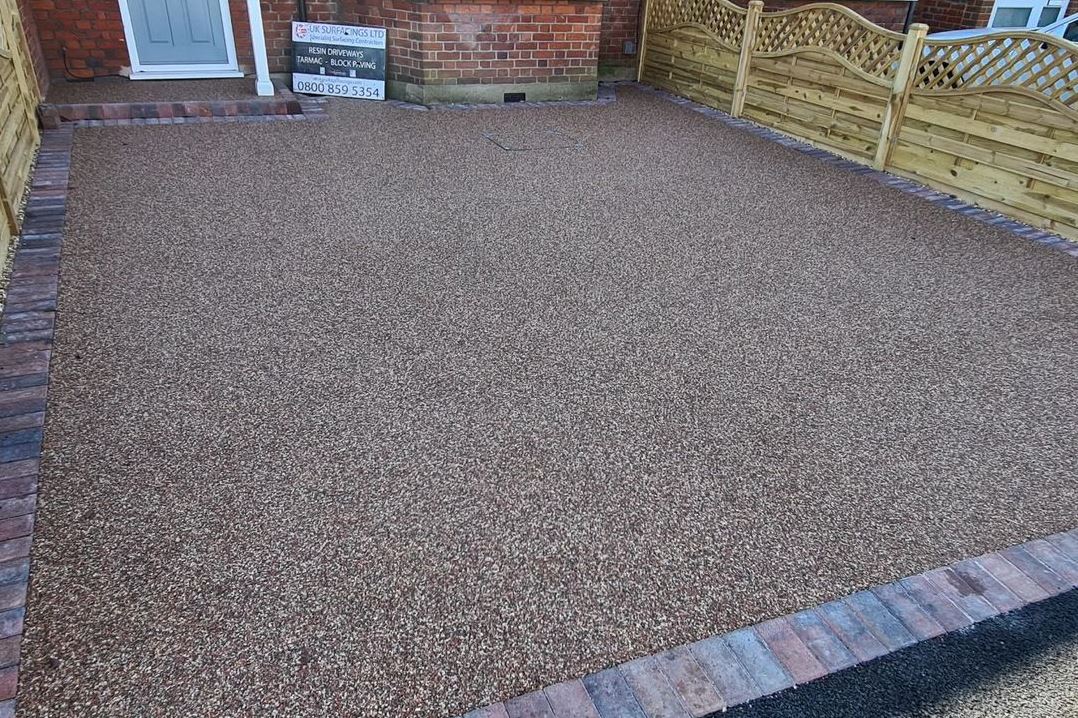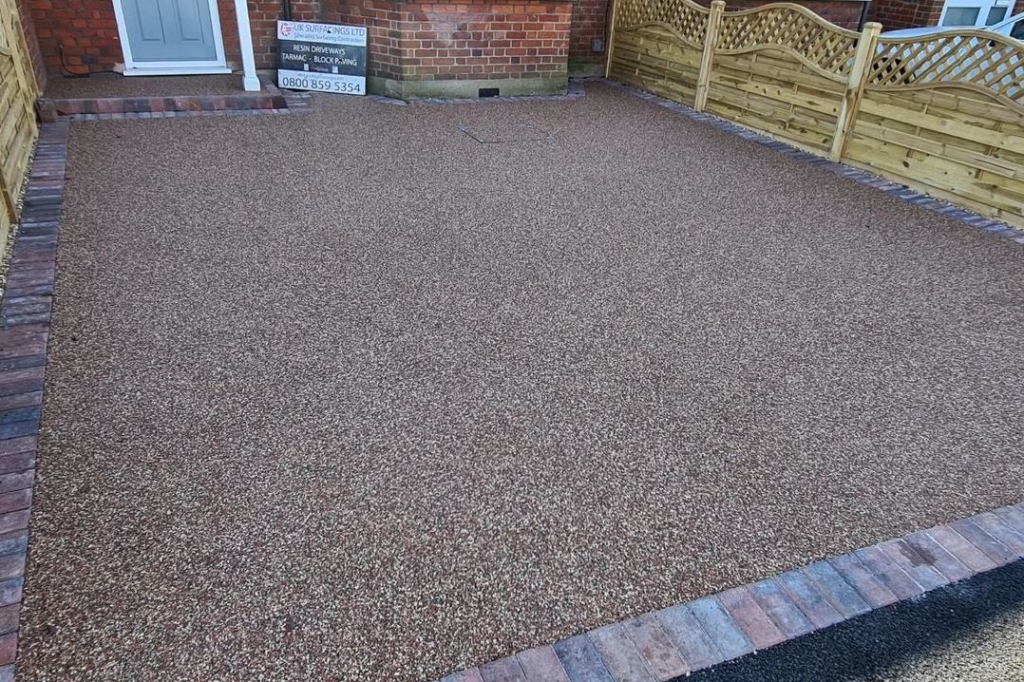 Install a decorative resin-bound driveway in Chipstead
If you are looking for a unique driveway in Chipstead or Reigate, resin-bound driveways are popular because they offer a great range of design options. They create a wonderfully smooth, robust, hard-wearing surface that is porous yet resistant to cracking and UV.
Resin-bound systems are known to be SUDS-compliant, and there are hundreds of aggregate colours and options to choose from. They are also slip-resistant, so popular where families with children or individuals use wheelchairs.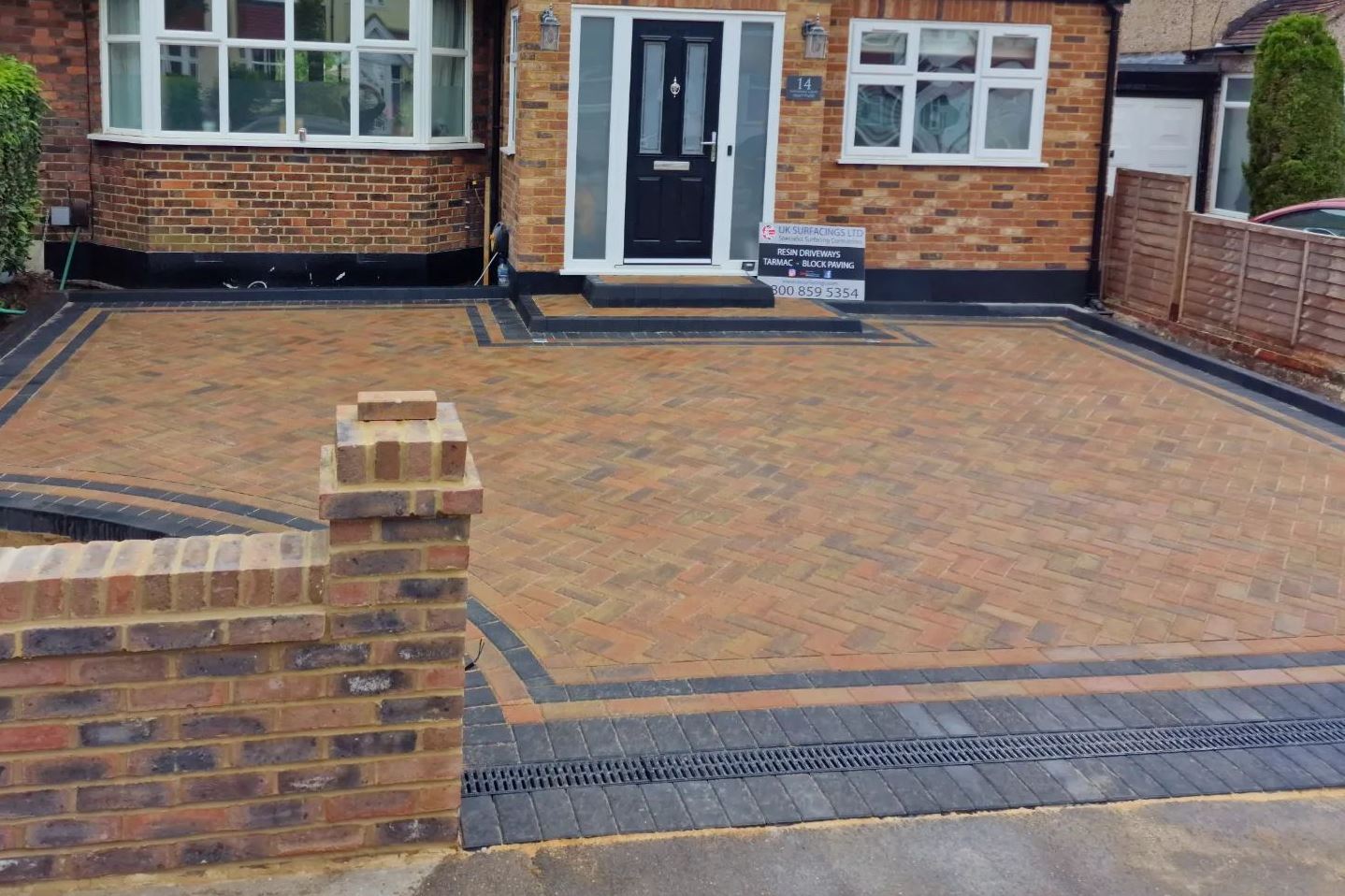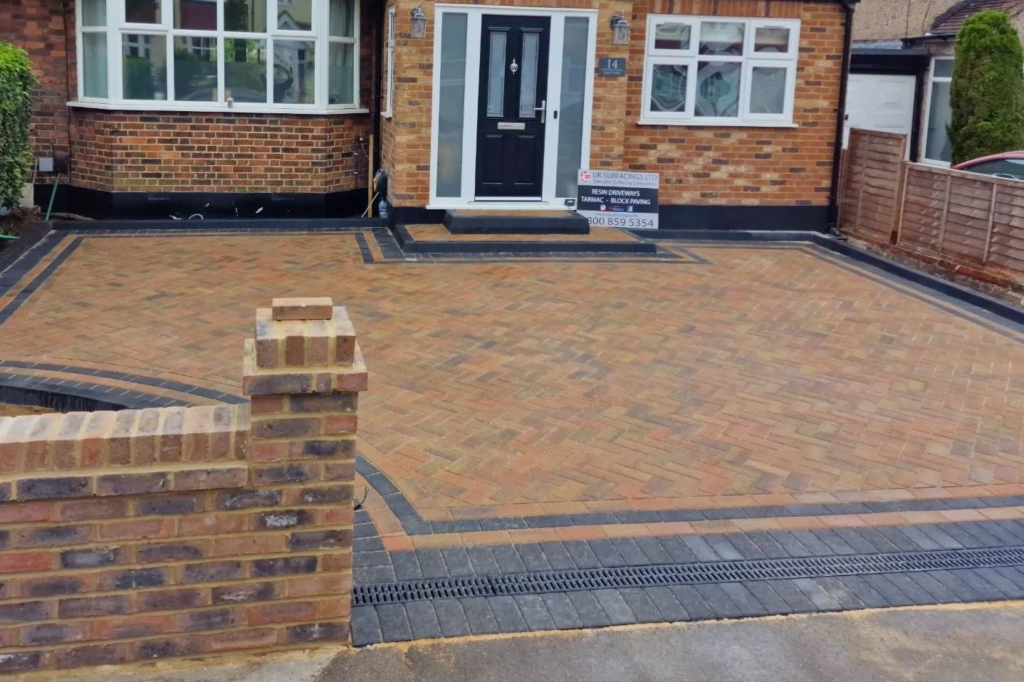 Professional block paving landscapers in Reigate, RH1
Block paving offers a unique and decorative driveway surface in Reigate. Block paving has natural aesthetics and is hard-wearing, and there are many different types of blocks to choose from. Our block paving installers only use the highest grade materials, and the results will always exceed your expectations.
As well as driveways, block paving can provide safe and durable surfaces for pathways and patios.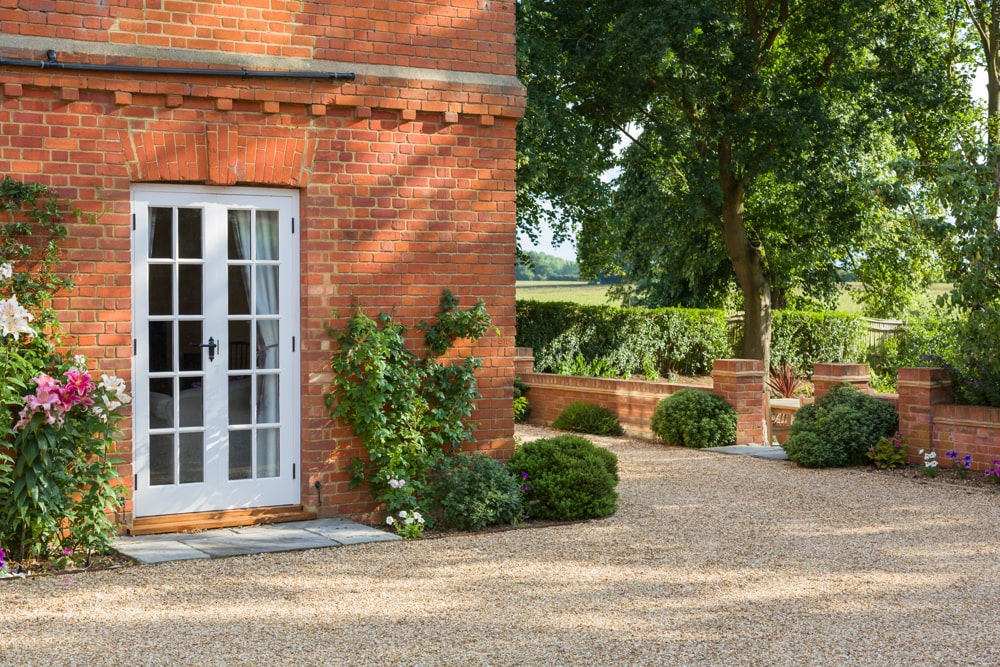 Gravel driveways laid to last in Reigate
Gravel driveways offer the perfect way to enhance your home in Reigate. Gravel has always been a classic driveway material. It is a very economical choice and can cover a wide area.
Gravel provides added security because you can hear people coming. Gravel driveways complement all property styles, from traditional country cottages to modern developments. It allows the free-flow of rainwater to the soil below.
Why choose a tarmac driveway in Reigate?
Are you considering renewing your driveway in Reigate? Perhaps you wish to install a completely new driveway? Tarmac has always been popular because it is one of the most cost-effective options available on the market. In addition, tarmac is extremely resilient and durable in even the harshest weather conditions. It is skid-resistant and can withstand high levels of UV and water.
It is also quick to install tarmac driveways and provides a quick turnaround time for new driveways and other tarmacadam installations.
Commercial tarmacing services  at unbeatable prices in Reigate
We provide asphalt and tarmacing services at cost-effective prices in Reigate. Tarmac is an ideal surface for many applications, including car parks, playgrounds, forecourts, slabs, edgings, and footpaths.
Once tarmac has been laid, it binds together to provide an extremely durable and long-lasting surface. This is ideal for any heavy loads and high traffic areas. It is also low maintenance and stops weeds from growing through it.
Our team can also undertake tarmac repairs and pothole repairs. We can tailor all specifications and mixes of tarmac and asphalt to suit the application. All work is finished to the highest specifications.
To request a quote from our driveway contractors in Reigate, contact us
Get in touch to discuss your surfacings requirements in Reigate by calling 0800 859 5354 or email info@uksurfacings.com, and we will get back to you.
Our driveway contractors also install new driveways in Cheam.
Browse our services below to see what we have to offer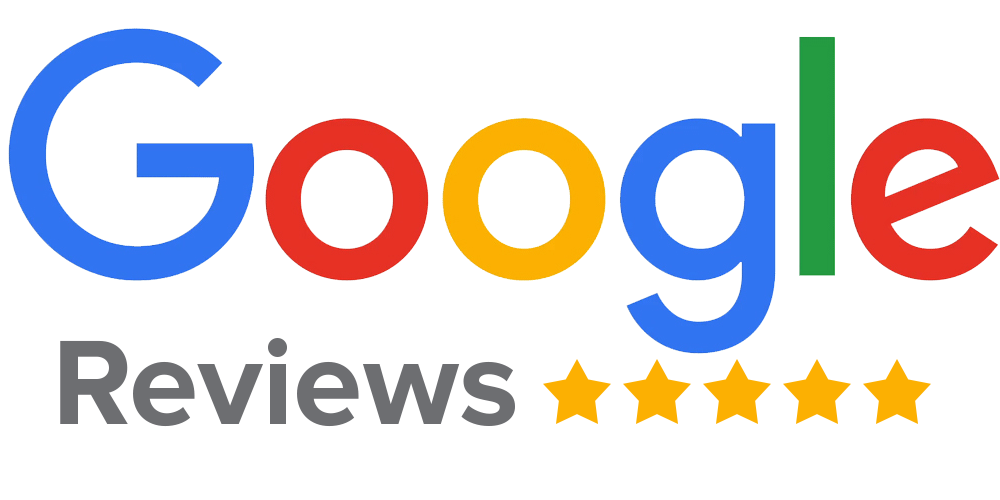 "Thank you for the job you did resurfacing our drive with tarmac. It looks really good and we were impressed with your team of workers. They work hard throughout the time they were here and prepared the ground well before the tarmac was laid. They dealt with all the details like manholes and edges and left the site clean and tidy."
"Superb job done to restore my crazy paving. Tony and his team were excellent. I will definitely use UK Surfacing again. Highly recommended :)"
"Excellent workmanship, great people to deal with – a decent family business. Lovely team who were tidy, courteous and professional. The Tarmac world seems to be rife with less than professional companies but UK Surfacings stand out for all the right reasons."
"Brilliant job! Tony kept me updated the whole way from start to finish! Big thank you to his team for the job they've done on my driveway. Absolute pleasure to deal with! I'll definitely recommend their services!"
"Excellent, professional job. Very happy with the end result – our garage entrance is quite a slope – so extra care, attention and effort was required to lay the asphalt well. All clearing and preparation of the slope was done quickly and efficiently. The 'team' were great and got on with the task in hand. (offer of couple of 'cups of tea' – that always helps too : ) I would recommend them very highly."
"Excellent service. Will definitely use again."
"Excellent service, I would highly recommend!"