Surfacing specialists and paving contractors in Horsham, West Sussex
UK Surfacings Ltd is a team of specialist driveway and surfacing contractors working for domestic and commercial customers in Horsham or Southwater. We complete all surfacing installations and repairs, from new driveways to road repairs.
Through hard work and excellent customer service, we have developed an excellent reputation and are your one-stop-shop for all your surfacing requirements. All work is completed to the highest standards, so your property is always in safe hands with us.
Many homeowners choose to invest in their driveways because they will increase the value of their property, provide a safe place to park, and offer an excellent first impression. In addition, parking your car on a private driveway will normally lead to cheaper car insurance because it lowers the risk of theft.
Our team members are highly qualified, and we work with all surfacing materials, including resin, tarmac, asphalt, block paving, gravel, and more. We have over four decades of experience in the surfacing trade and hold £5million in Public Liability Insurance.
For recommendations, please see reviews on Checkatrade.com – comments include: "Their pricing is competitive, workmanship first class, very polite and really efficient, works always completed as agreed, we will be using them again, and are happy to recommend them."
For more information, please call 0800 859 5354.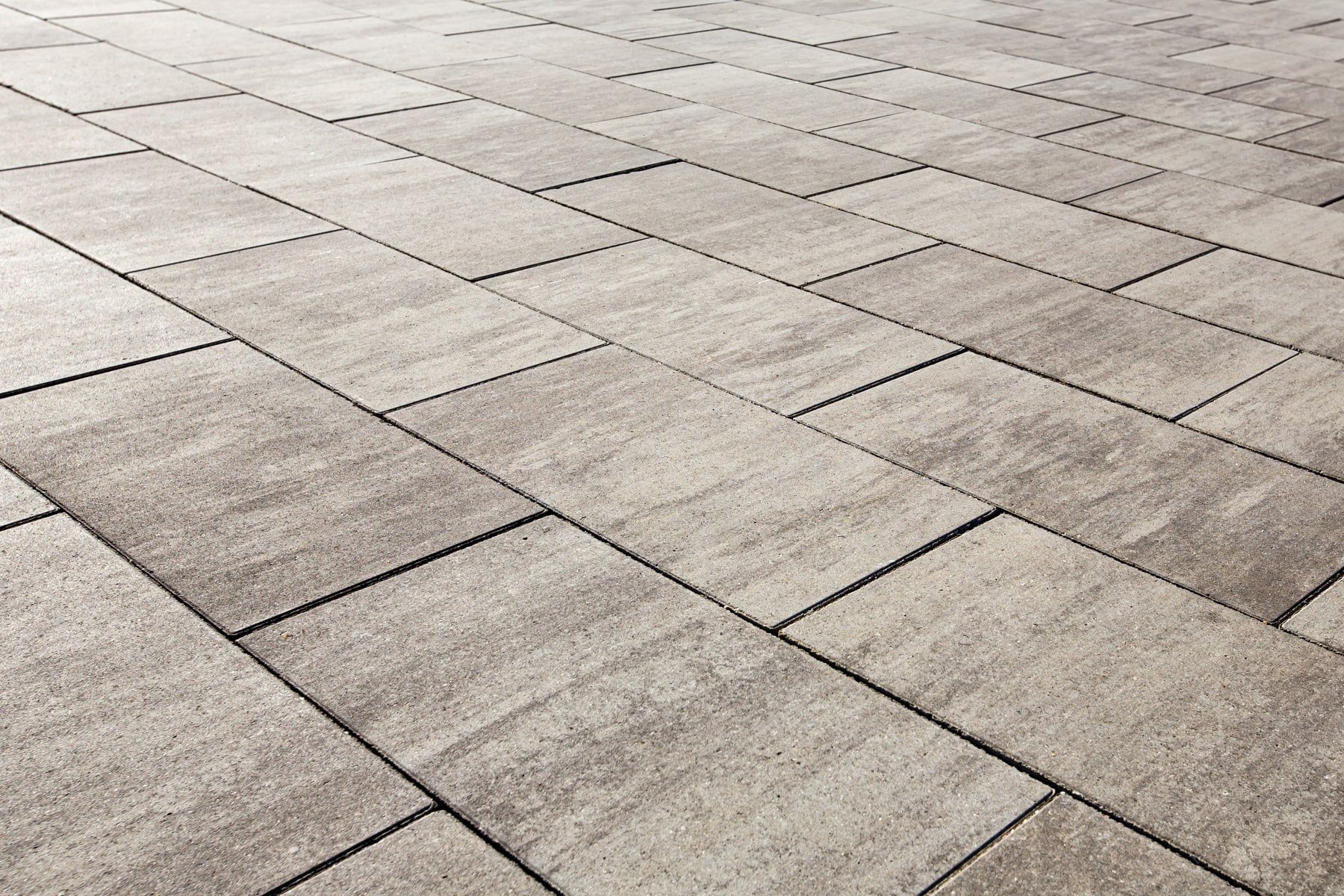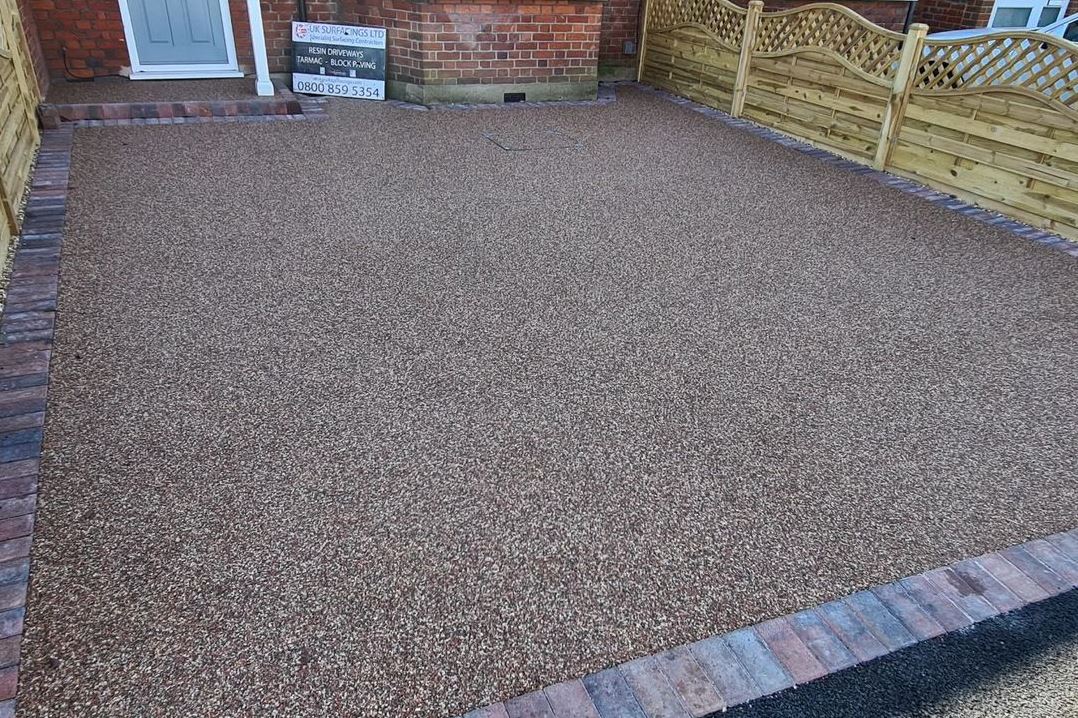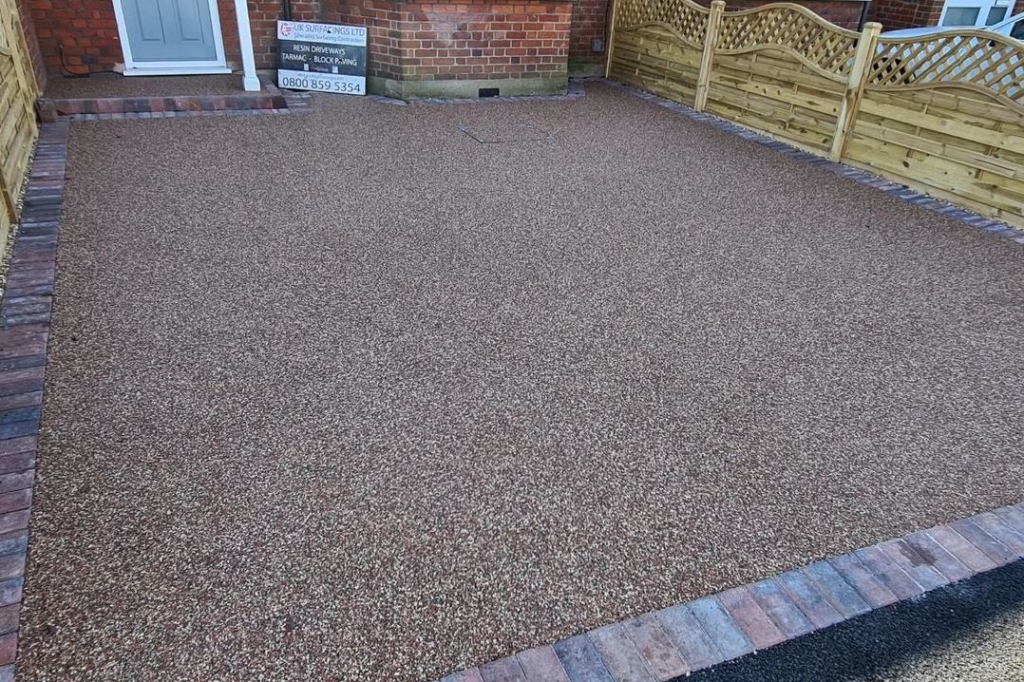 Resin-bound driveway contractors Southwater
Our professional driveway contractors near Southwater or Horsham can design and install first-class resin-bound driveways. As well as looking fantastic, resin-bound surfaces have many practical benefits.
Resin-bound driveways are resistant to natural elements and will resist the growth of weeds. They are straightforward to maintain and will only require periodic washdowns. They are available in a range of colours to suit your exterior.
One of the main benefits of resin is that it provides a smooth finish, so it is ideal for families and wheelchair users.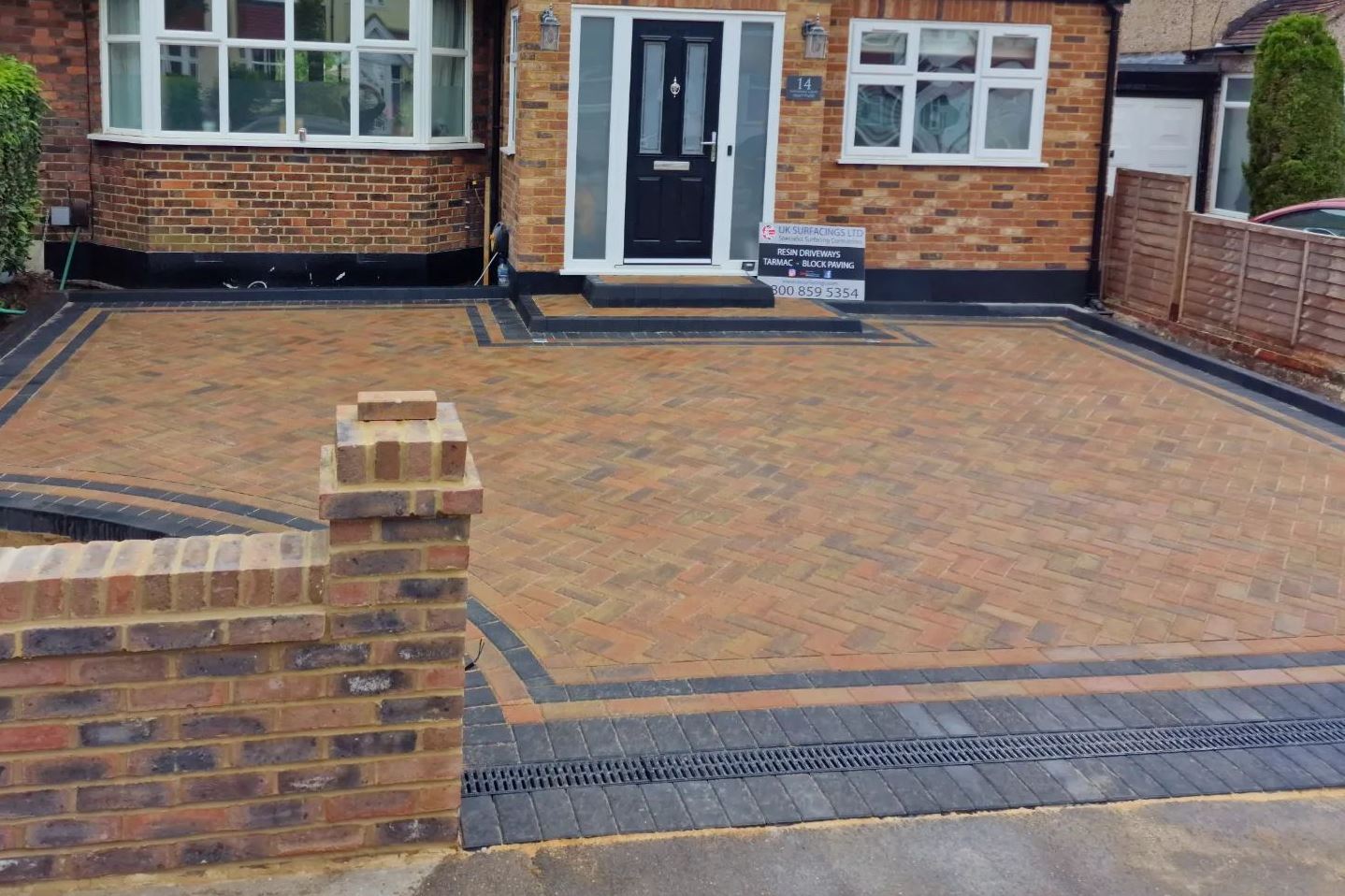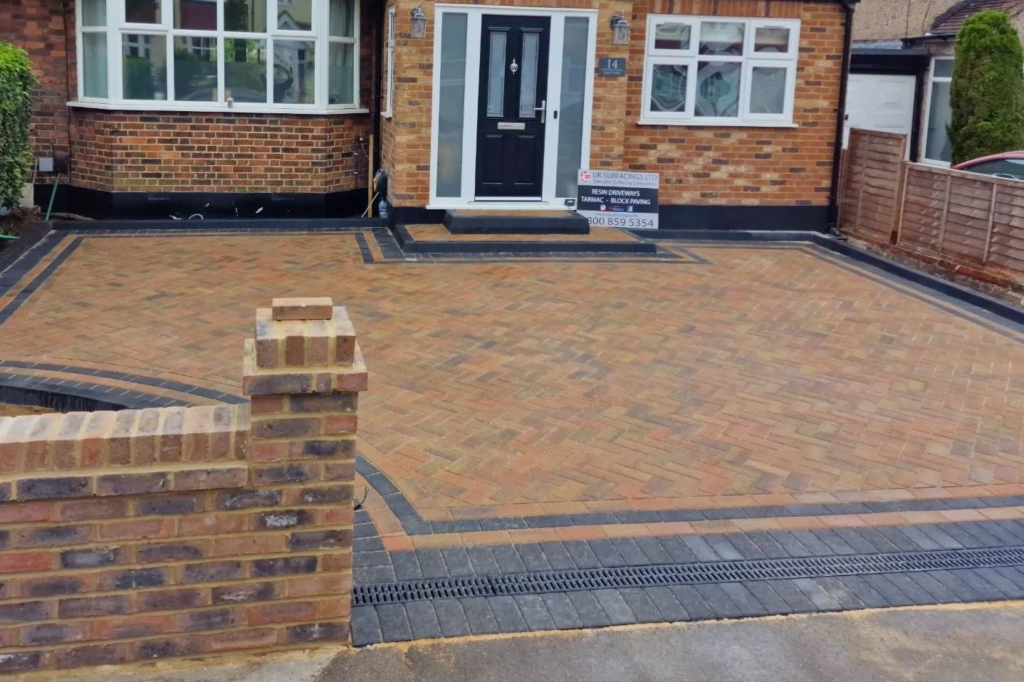 Practical block paving landscapers for new driveways in Horsham, RH12
Functional and durable, block paving is a fantastic choice for new driveways in Horsham, as well as pathways, patios, and parking areas. Block paving can be used to design a unique finish using circles or other shapes.
A block paving driveway can add a touch of class to your property, and all new projects come with guarantees. Block paving is very durable and long-lasting. If there are any issues, single blocks can be replaced.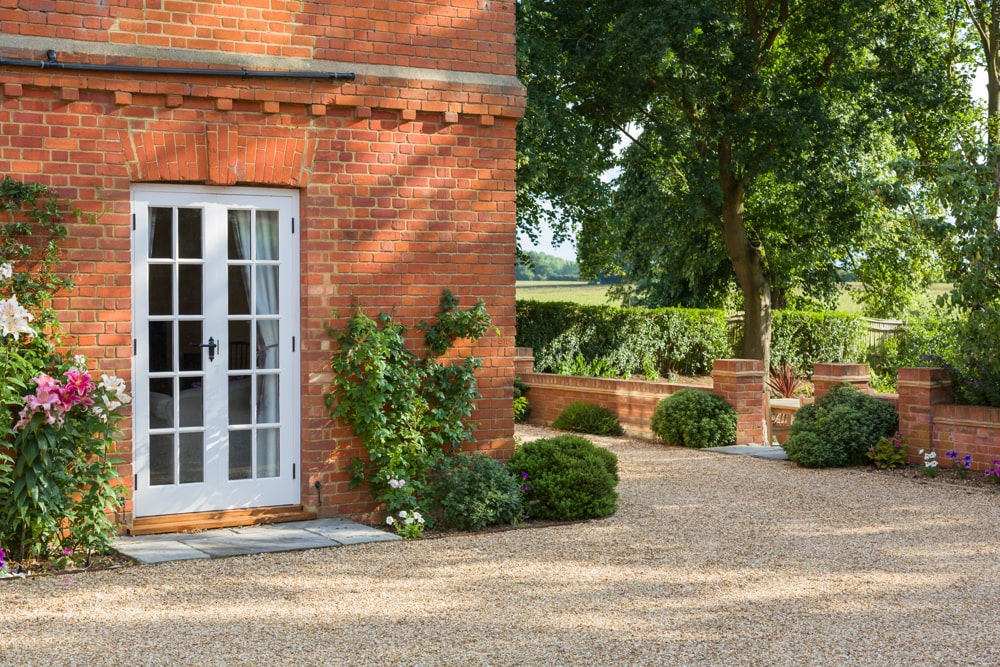 Improve your exterior in Horsham with a new gravel driveway
Gravel driveways offer a flexible option for property owners in Horsham. They work well for properties where there is a large area to cover because they are such a cost-effective option.
For people looking for a driveway that looks after itself, gravel driveways are a low-maintenance option. They can easily be replenished. They also provide the additional security of the noise of a car or walking on gravel as you approach the property.
Horsham tarmac driveways
Tarmac driveways can increase the value of your property in Horsham. This is because they are affordable and quick, and easy to install. Tarmac and asphalt driveways can also be installed over other surfaces. They are usually black, but they can be installed in other colours.
Seamless and smooth tarmac driveways will give your home a smart and clean exterior. We pride ourselves on the quality of our work.
Commercial  surfacing and tarmacing services in Horsham
We specialise in all commercial surfacing and tarmacing projects in Horsham. We can provide all types of commercial tarmacking installations and repairs. This includes road repairs, pothole repairs, car park repairs, office car park repairs, playground resurfacing, road kerbs, slabs, edgings, groundworks, and more. Read our blog: Five pothole repairs methods.
We understand the importance of working efficiently and will minimise disruption at all times, with work being completed outside of normal working hours if required. However, we will never cut corners or compromise on the quality of our work, leading to long-lasting surfaces. We only ever use the highest-quality materials at all times.
We re-surface the following: -
Driveways

Patios

Roads

Private Roads

Footpaths

Car Parks

Playgrounds

Tennis courts

Industrial Estates

Shop Forecourts
Proficient with the following materials...
Tarmac

Resin

Block Paving

Natural Slabs

Porcelain

Concrete
Call our block paving installers and re-surfacing contractors in Horsham today
Contact our trusted and reliable surfacing contractors in Horsham now on 0800 859 5354 or email info@uksurfacings.com
Our block paving installers also install new driveways in Sevenoaks.
Browse our services below to see what we have to offer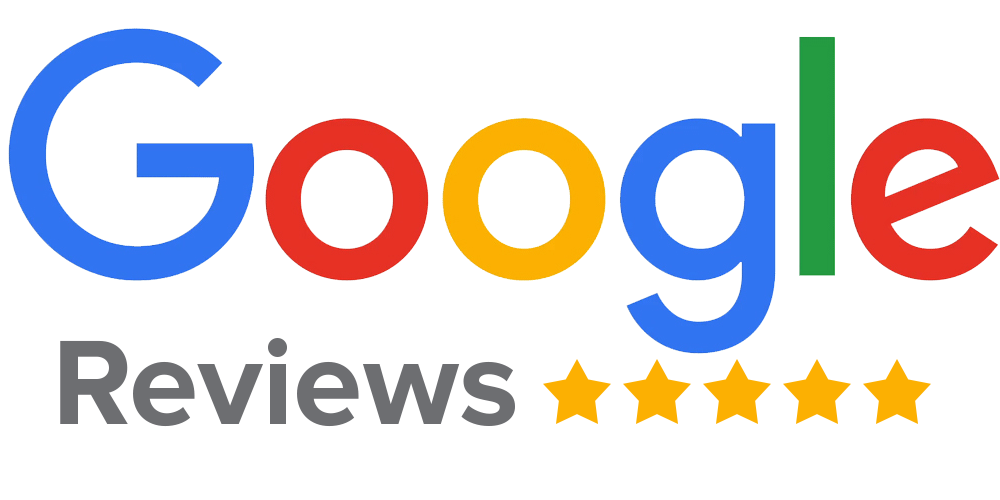 "Thank you for the job you did resurfacing our drive with tarmac. It looks really good and we were impressed with your team of workers. They work hard throughout the time they were here and prepared the ground well before the tarmac was laid. They dealt with all the details like manholes and edges and left the site clean and tidy."
"Superb job done to restore my crazy paving. Tony and his team were excellent. I will definitely use UK Surfacing again. Highly recommended :)"
"Excellent workmanship, great people to deal with – a decent family business. Lovely team who were tidy, courteous and professional. The Tarmac world seems to be rife with less than professional companies but UK Surfacings stand out for all the right reasons."
"Brilliant job! Tony kept me updated the whole way from start to finish! Big thank you to his team for the job they've done on my driveway. Absolute pleasure to deal with! I'll definitely recommend their services!"
"Excellent, professional job. Very happy with the end result – our garage entrance is quite a slope – so extra care, attention and effort was required to lay the asphalt well. All clearing and preparation of the slope was done quickly and efficiently. The 'team' were great and got on with the task in hand. (offer of couple of 'cups of tea' – that always helps too : ) I would recommend them very highly."
"Excellent service. Will definitely use again."
"Excellent service, I would highly recommend!"