Book a professional driveway installation with one of our surfacing contractors in Wimbledon, SW19
UK Surfacings Ltd. is a multi-purpose surfacing and tarmac company in Wimbledon or Southfields.
We serve both domestic and commercial clients and offer the highest level of service. So whether you need professional surfacing or block paving installers for a new driveway or require contractors to install a new playground or sports pitch, we are surfacing contractors you can rely on.
When you choose UK Surfacings Ltd, you will always be offered a personal and tailored service at a fantastic price. We can carry out a range of re-surfacing work and specialise in new driveways, including gravel, block paving, tarmac, and resin-bound driveways.
Our team has over 30 years of experience in all aspects of surfacing projects.
We offer free estimates and expert advice at any time and hold £10million AXA Public Liability Insurance for your peace of mind. All work comes fully guaranteed. We only use the best tried and tested and quality materials.
For more information, call now on 0800 859 5354.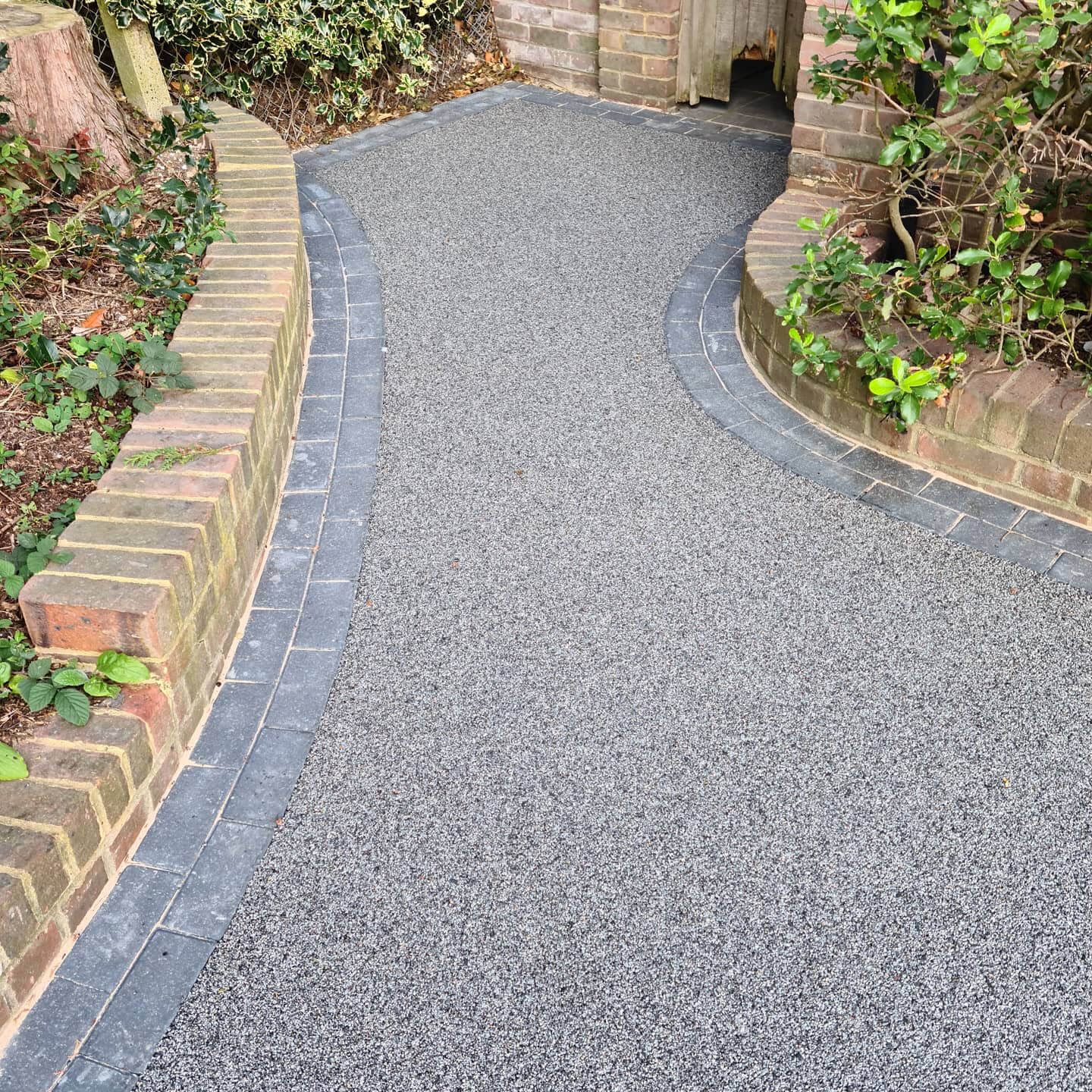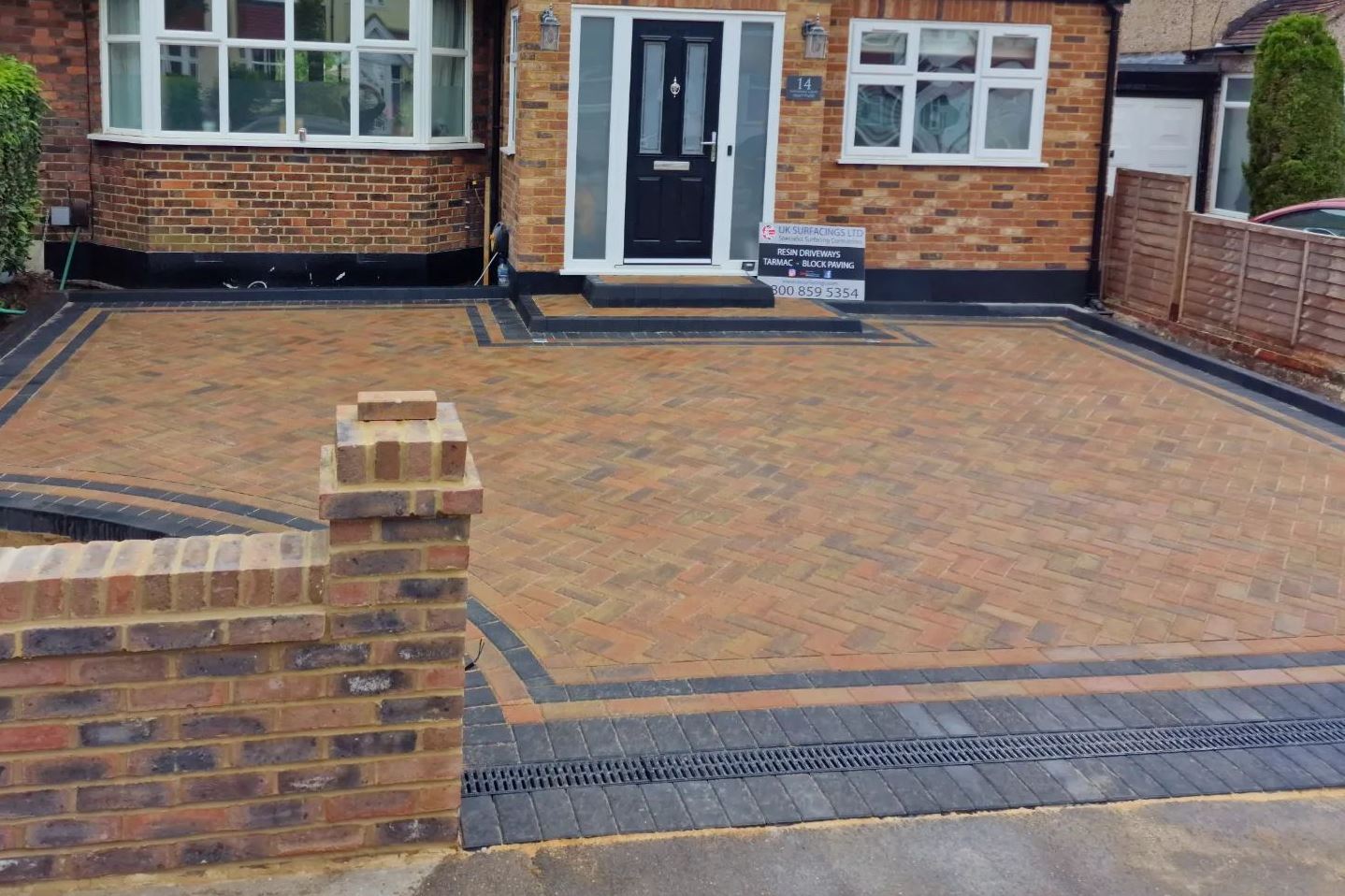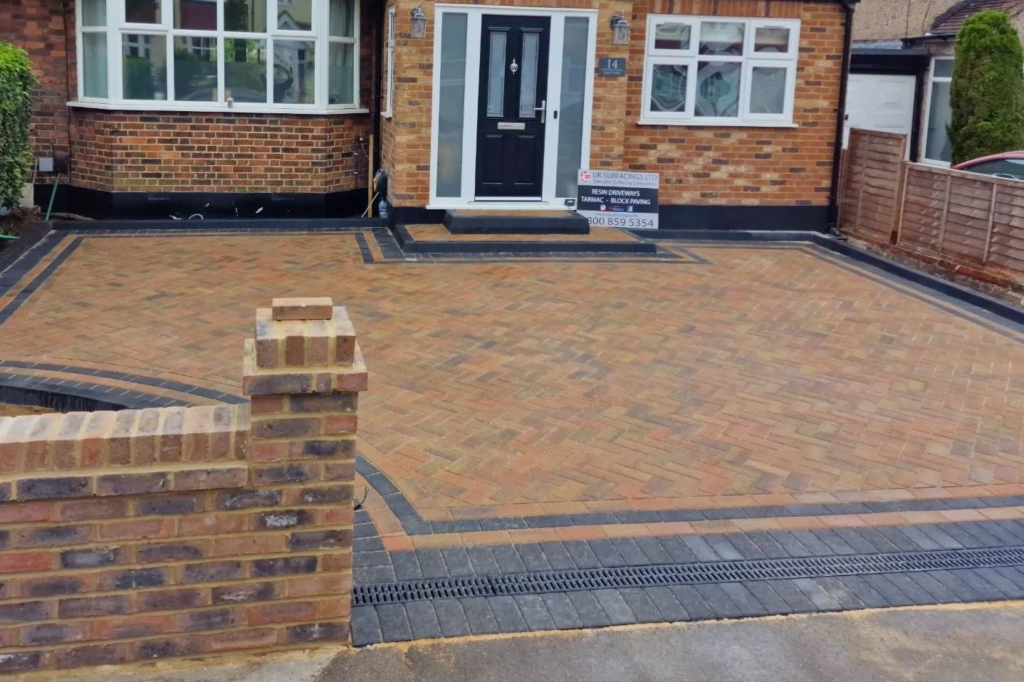 Block paving landscapers for a new block paving driveway in Wimbledon
Block paving driveways in Wimbledon are one of the top choices when people come to installing new driveway surfaces. Our cost-effective block paving driveways will be an asset to any property.
Our block paving installers can create a new block paving driveway to enhance the appearance of your home. All our block paving adheres to British and European standards and adds a unique and distinctive finish to any property.
Various styles and products are available to suit you, from classic and traditional to more contemporary designs.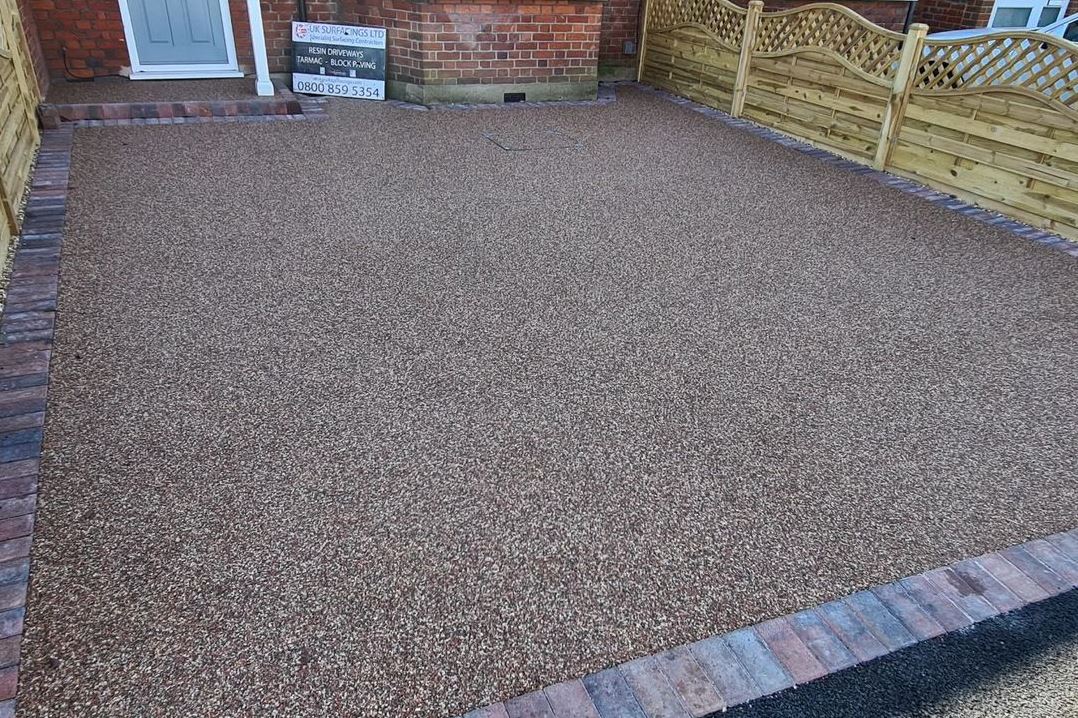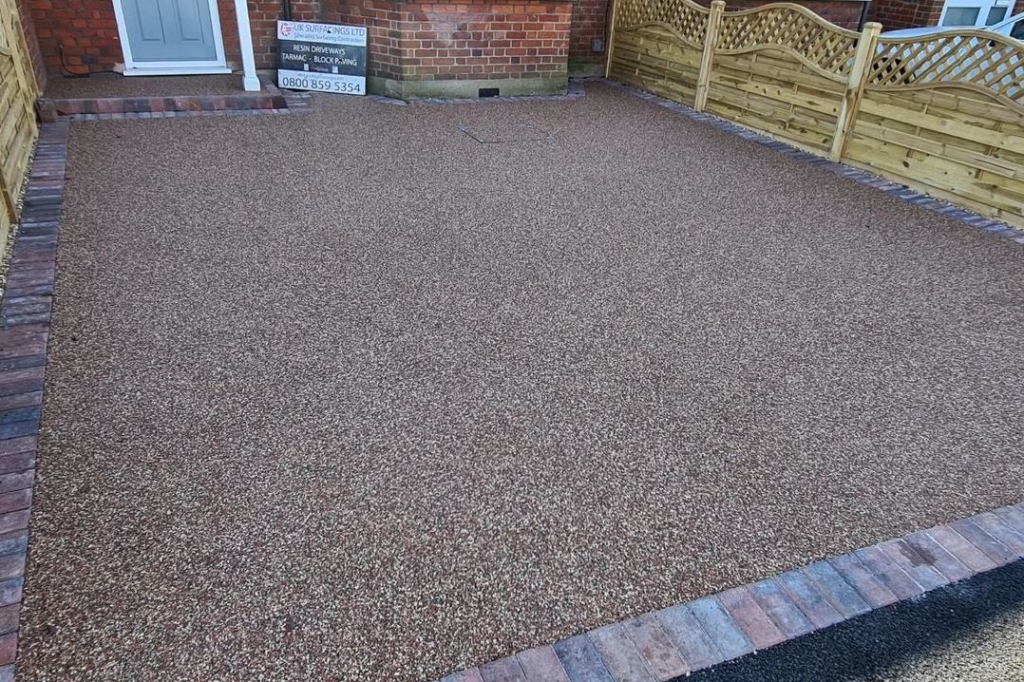 Do you need a low-cost resin-bound driveway in Southfields?
UK Surfacing Ltd. are specialists in installing new resin bound driveways in Southfields or Wimbledon. Resin-bound is a popular driveway choice because it is attractive, durable, and an excellent alternative to gravel.
Our driveways come in different colours and aggregates to suit the exterior of your home or area. You can adapt your resin-bound driveway to suit any shape and mix-and-match design options. Resin bound surfaces are permeable, making them SUDS compliant.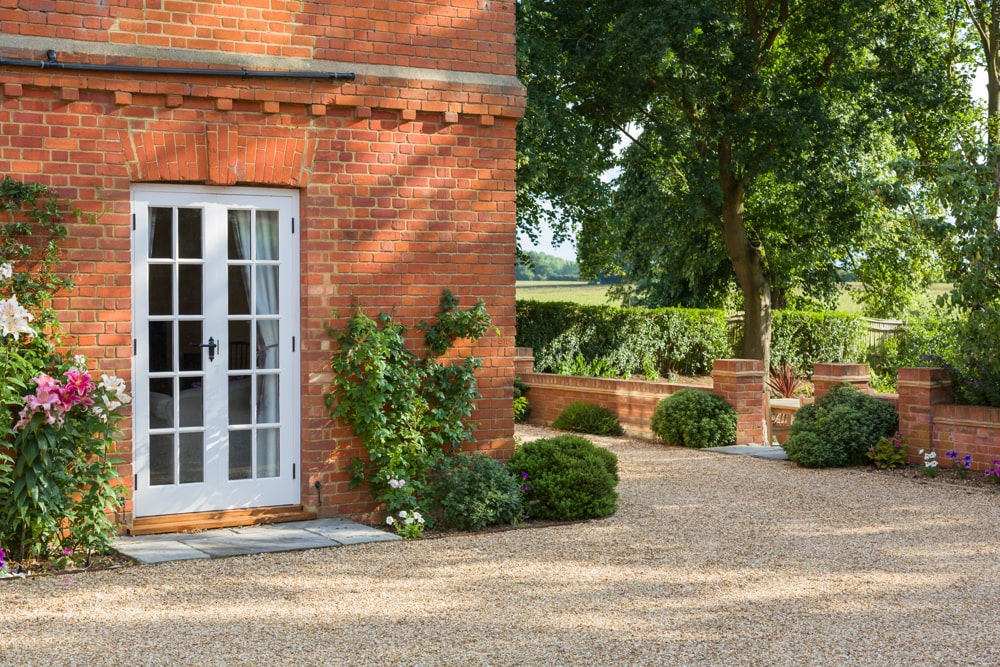 Colourful new gravel driveways installation near Wimbledon
Gravel driveways come in various shapes and colours near Wimbledon. Whether you wish to refresh the appearance of your current driveway or want a completely new driveway installed, our gravel driveway contractors can help.
A gravel driveway provides a smart front for any property. Gravel combines colour and texture. We can install all types of gravel, including crushed stone, pea gravel, marble chips, 20mm shingle, and more.
Residential and commercial tarmac driveways installed in Wimbledon
We have been installing tarmac or asphalt driveways in Wimbledon for many years. Tarmac is quicker to install than other driveway materials and is hard-wearing and low maintenance. This is why it is the most popular material for roads.
Tarmac is also permeable, so it is a good solution for the changeable UK weather. We bring the best tarmac surfaces to our customers, and having worked on countless driveways in your local area, we offer service that you can trust.
There are countless benefits to resurfacing your driveway. Please see our blog: Why resurface your driveway?
Commercial surfacing and tarmacing projects in Wimbledon
Here at UK Surfacings ltd, we have undertaken all commercial re-surfacing and tarmacing services in Wimbledon. We can provide groundworks and all tarmac surfacing and repairs for car parks, roads, footpaths, driveways, forecourts, kerbs, slabs, edging, and more.
We always pay excellent attention to detail and offer fantastic customer service, so we can provide you with precisely what you need. We can complete projects at a very short notice period, and all work is always done on time and within budget.
We work on projects of all sizes and complexity and can bring the ideal solution, whatever you are looking for.
We re-surface the following: -
Driveways

Patios

Roads

Private Roads

Footpaths

Car Parks

Playgrounds

Tennis courts

Industrial Estates

Shop Forecourts
Proficient with the following materials...
Tarmac

Resin

Block Paving

Natural Slabs

Porcelain

Concrete
Speak with our local driveway contractors in Wimbledon for information or a free quote
Would you like a quote for a new driveway in Wimbledon? Please contact us on 0800 859 5354 or via email at info@uksurfacings.com
We also install beautiful new driveways in Cobham.
Browse our services below to see what we have to offer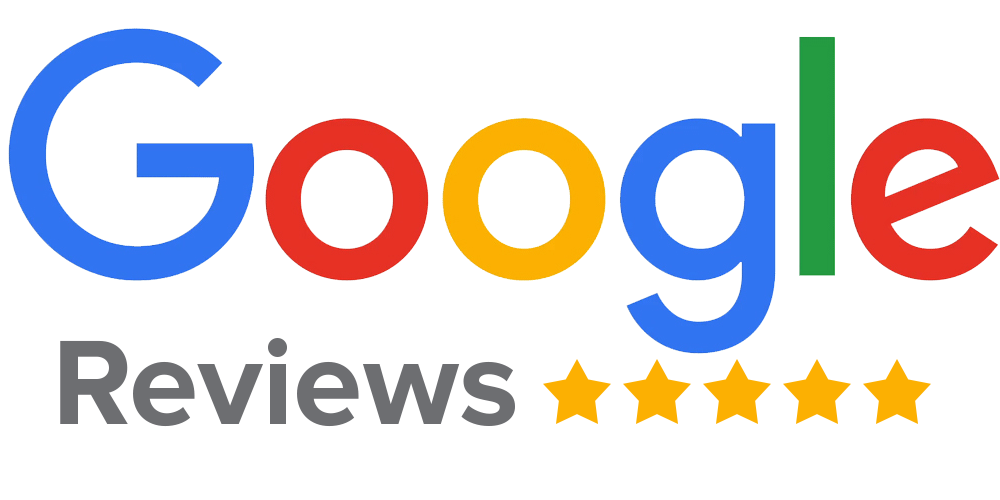 "Thank you for the job you did resurfacing our drive with tarmac. It looks really good and we were impressed with your team of workers. They work hard throughout the time they were here and prepared the ground well before the tarmac was laid. They dealt with all the details like manholes and edges and left the site clean and tidy."
"Superb job done to restore my crazy paving. Tony and his team were excellent. I will definitely use UK Surfacing again. Highly recommended :)"
"Excellent workmanship, great people to deal with – a decent family business. Lovely team who were tidy, courteous and professional. The Tarmac world seems to be rife with less than professional companies but UK Surfacings stand out for all the right reasons."
"Brilliant job! Tony kept me updated the whole way from start to finish! Big thank you to his team for the job they've done on my driveway. Absolute pleasure to deal with! I'll definitely recommend their services!"
"Excellent, professional job. Very happy with the end result – our garage entrance is quite a slope – so extra care, attention and effort was required to lay the asphalt well. All clearing and preparation of the slope was done quickly and efficiently. The 'team' were great and got on with the task in hand. (offer of couple of 'cups of tea' – that always helps too : ) I would recommend them very highly."
"Excellent service. Will definitely use again."
"Excellent service, I would highly recommend!"