Hard landscaping and driveway contractors in Sevenoaks, Kent
Are you searching for a local driveway construction or surfacing company in Sevenoaks or Westerham? UK Surfacings Ltd offers high-quality surfacing solutions, including new driveways throughout the local areas of Kent and the wider parts of the South East.
Built on a land-standing foundation of experience and knowledge, our team of surfacing and driveway contractors delivers excellent workmanship, whatever the size of your project. We work with residential and commercial customers and can provide new driveways in resin, tarmac, block paving, gravel, and other materials.
Our team of surfacing and driveway professionals is here to guide you and manage every stage of your project, from groundworks to completion. We are proud of our reputation; please see our Checkatrade.com recommendations. We are rated 10 out of 10 for workmanship, tidiness, courtesy and reliability.
We are driveway experts who offer an enviable range of products and styles that can create a great first impression. In addition, we can provide free and no-obligation quotes at any time.
Leading surfacing experts with three decades of experience
High-quality products and materials used
Free estimates and consultations at any time
£10million AXA Public Liability Insurance for your peace of mind
All work comes fully guaranteed
Hire our professionals for your driveway by calling 0800 859 5354.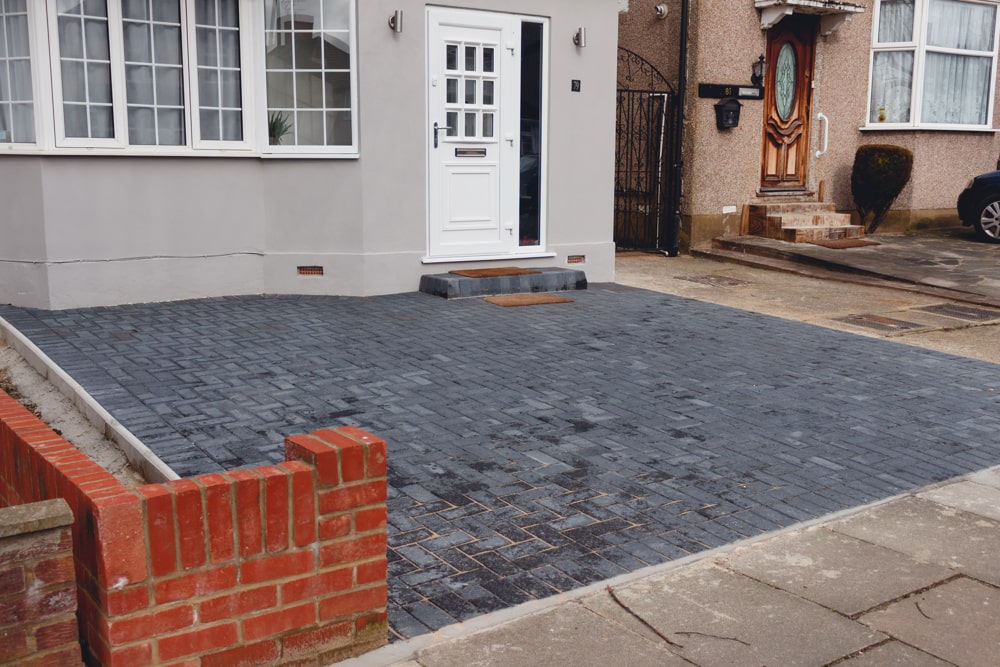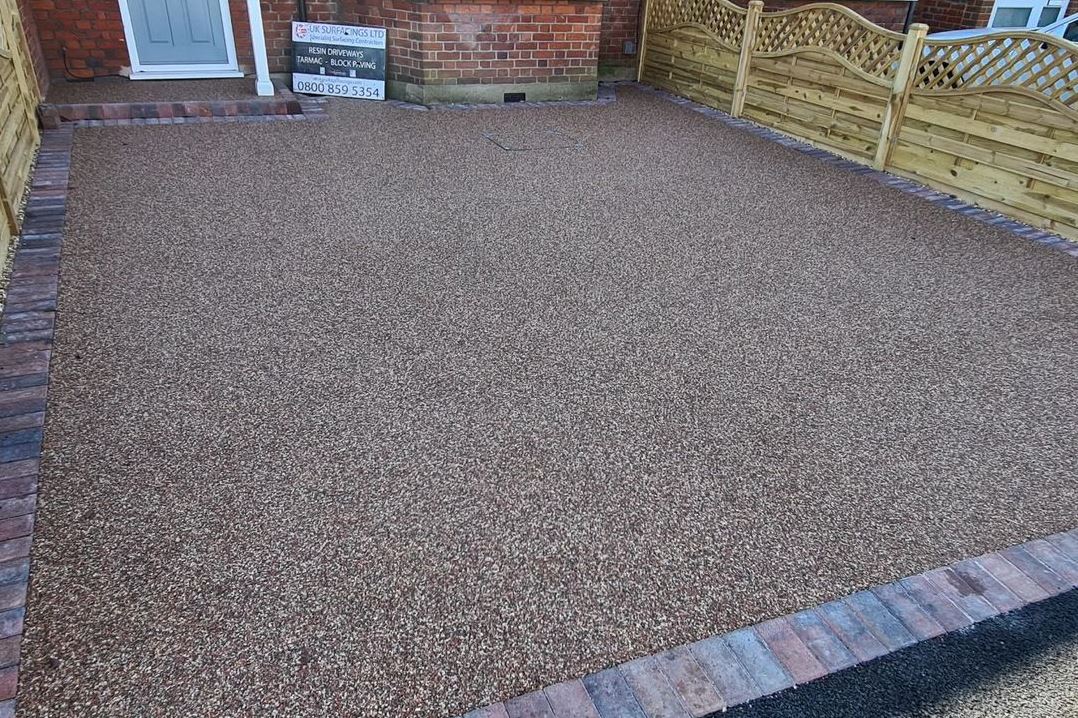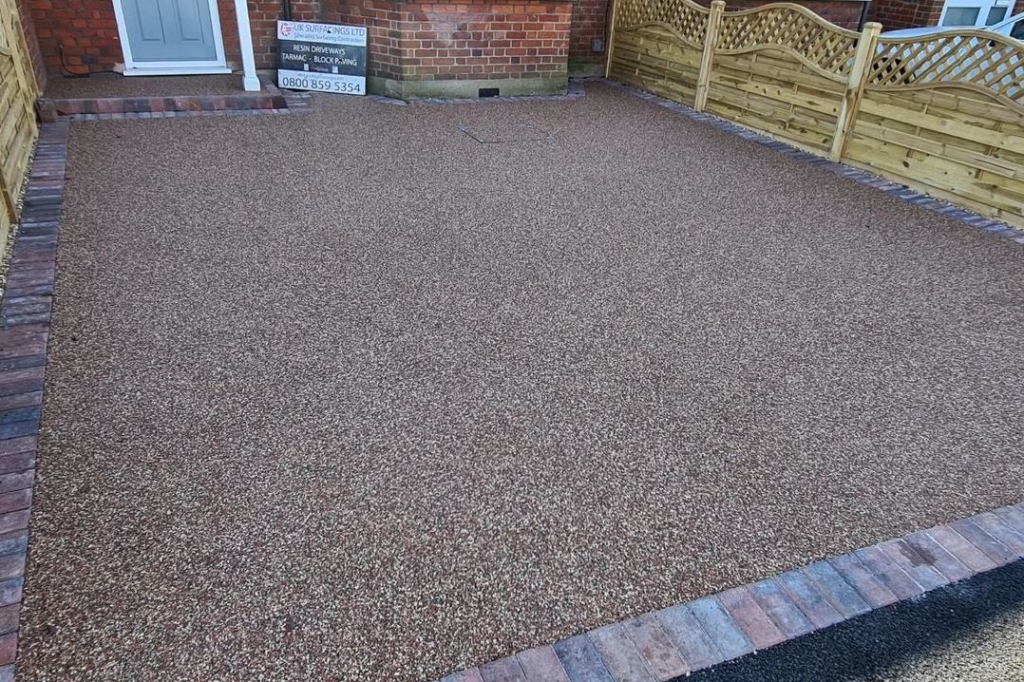 Resin-bound driveways installed in Westerham
Here at UK Surfacings, we understand the need to make your driveway in Westerham or Sevenoaks look fantastic. Resin-bound surfacing can provide an excellent solution because it is anti-slip, long-lasting and durable.
Resin driveways come in various colours to suit your property and exterior. In addition, these surfaces are SUDS-compliant, allowing water to drain through them and requiring minimal maintenance to keep them looking great.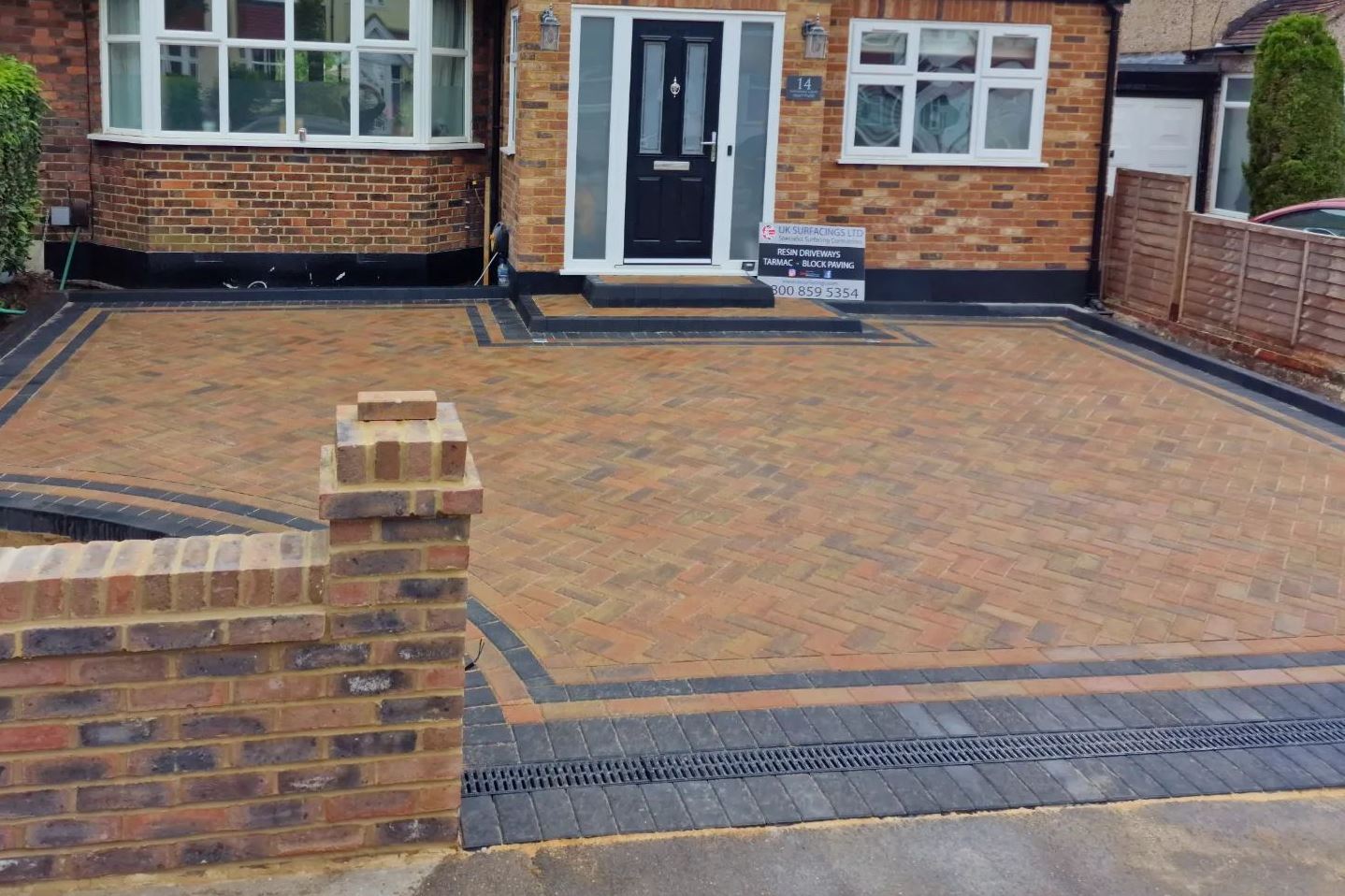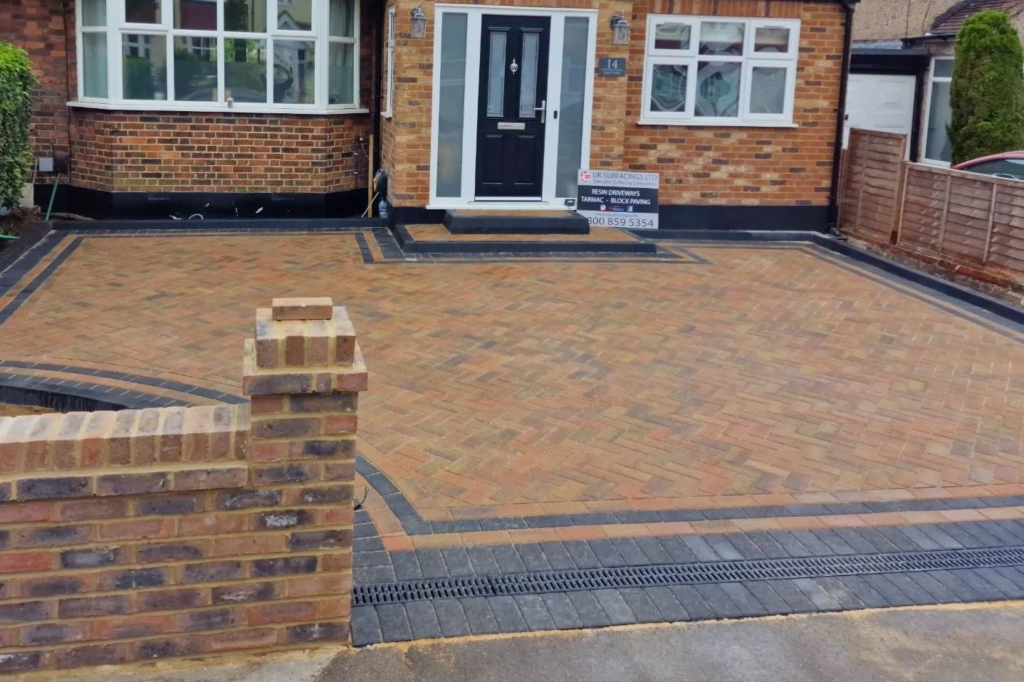 Premier paving landscapers in Sevenoaks, TN13, for decorative block paving driveways
We provide quality block paving solutions in Sevenoaks. If you are looking for a unique pattern or colour design, block paving ticks all the boxes.
Cost-effective, durable, and easy to look after, we can supply and install your new block paving driveway or patio. If one block is damaged, it can be easily replaced without having to re-do the whole installation. This will keep any repair bills down to a minimum.
Read our blog: Best type of paving for patios.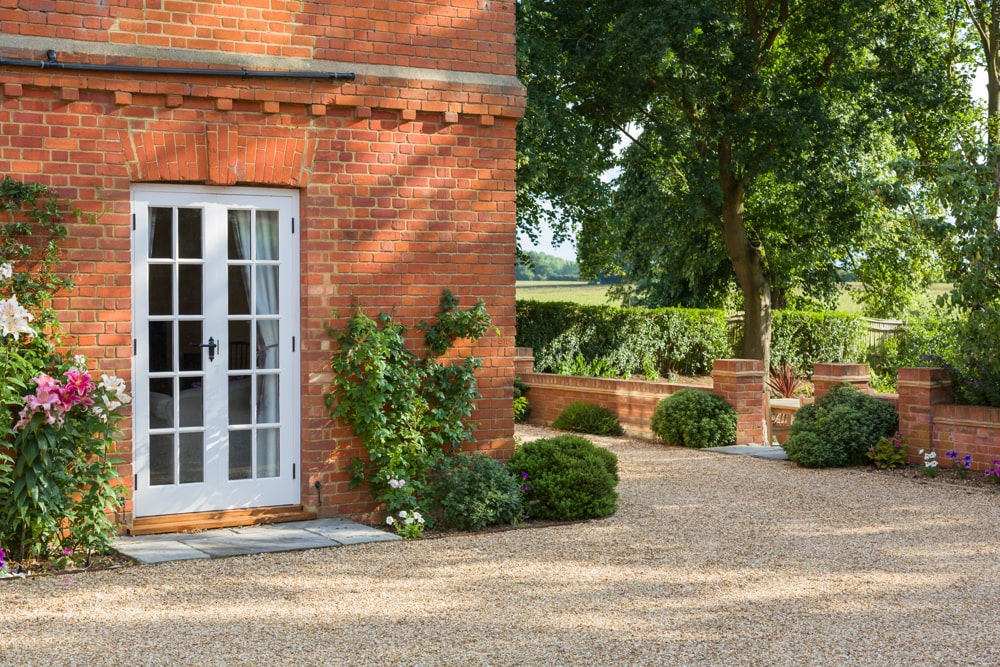 Loose gravel driveways in Sevenoaks
Are you searching for gravel driveway contractors in Sevenoaks? Gravel can provide a permeable, affordable, and aesthetically pleasing option for all residential and commercial driveways. On larger driveways, gravel can offer substantial savings.
Our gravel driveways are available in a range of colours and sizes to add a unique look and feel. Gravel is also used because it adds additional security because you will be able to hear when someone approaches.
Tarmac and tarmacadam driveways in Sevenoaks
Are you looking for a high-functioning driveway surface? UK Surfacing Ltd provides fully insured tarmac or tarmacadam services throughout Sevenoaks. This includes the installation of new tarmac driveways.
Tarmac driveways provide a long-lasting and durable option for all driveways. It can also be laid over other surfacing materials and provide a solid finish. This also makes it easier to maintain and repair.
Road repairs and commercial tarmacing services in Sevenoaks
We provide asphalt and tarmacing services in Sevenoaks and can complete all jobs ranging from small potholes or road repairs to extensive tarmac installations. This includes tarmac restoration.
Tarmac is a highly durable component and can withstand the heaviest of traffic and vehicles. This is why it is popular across the surfacing sector and is used for roads, pathways, playgrounds, forecourts, slabs, edgings, paving, car parks, and footpaths.
Our highly skilled team uses the latest machinery and tools to provide expert services. We work to highly professional standards and are committed to the quality of our work.
Our team also offers all quick and cost-effective groundworks for all types of projects, including car parks, extensions, and garden walls.
We re-surface the following: -
Driveways

Patios

Roads

Private Roads

Footpaths

Car Parks

Playgrounds

Tennis courts

Industrial Estates

Shop Forecourts
Proficient with the following materials...
Tarmac

Resin

Block Paving

Natural Slabs

Porcelain

Concrete
Considering a new driveway in Sevenoaks? Speak to our local driveway contractors
Find out more about how we can help you with your surfacing project by calling 0800 859 5354 or emailing info@uksurfacings.com
Our block paving installers also install new driveways in Chessington.
Browse our services below to see what we have to offer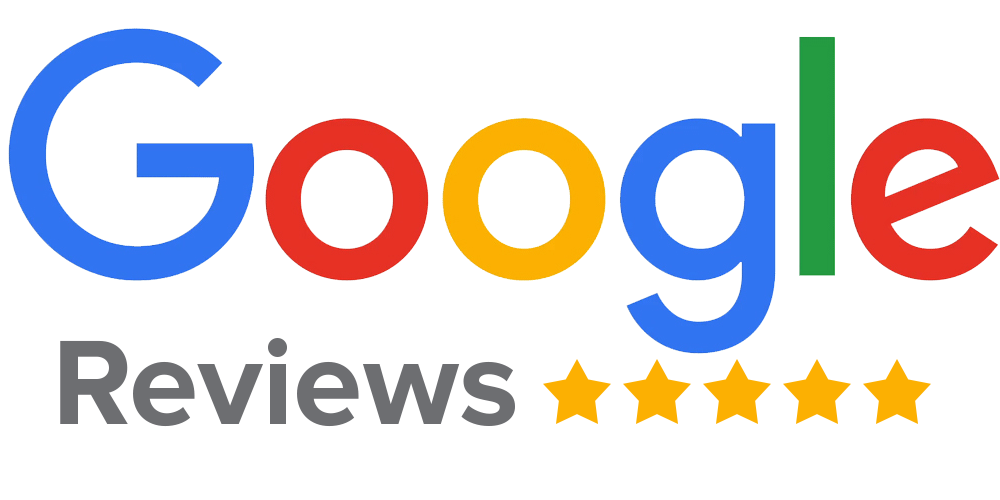 "Thank you for the job you did resurfacing our drive with tarmac. It looks really good and we were impressed with your team of workers. They work hard throughout the time they were here and prepared the ground well before the tarmac was laid. They dealt with all the details like manholes and edges and left the site clean and tidy."
"Superb job done to restore my crazy paving. Tony and his team were excellent. I will definitely use UK Surfacing again. Highly recommended :)"
"Excellent workmanship, great people to deal with – a decent family business. Lovely team who were tidy, courteous and professional. The Tarmac world seems to be rife with less than professional companies but UK Surfacings stand out for all the right reasons."
"Brilliant job! Tony kept me updated the whole way from start to finish! Big thank you to his team for the job they've done on my driveway. Absolute pleasure to deal with! I'll definitely recommend their services!"
"Excellent, professional job. Very happy with the end result – our garage entrance is quite a slope – so extra care, attention and effort was required to lay the asphalt well. All clearing and preparation of the slope was done quickly and efficiently. The 'team' were great and got on with the task in hand. (offer of couple of 'cups of tea' – that always helps too : ) I would recommend them very highly."
"Excellent service. Will definitely use again."
"Excellent service, I would highly recommend!"