Local, efficient driveway construction and surfacing in Carshalton, Surrey
No matter what type of driveway you require in Carshalton, Hackbridge, or Wallington, the team at UK Surfacings Ltd. can help. We are independent driveway contractors who specialise in surfacing work, including installing new driveways alongside tarmac work.
Our team is highly experienced and knowledgeable and will give your surfacing project our completed attention, from start to finish. We aim to build strong relationships with our clients, and we work across the domestic, commercial, and residential sectors.
A high-quality driveway is more than just a space to park your car. A polished and durable finish can add value to your property and add to the landscaping appeal of your property. At UK Surfacings, we can supply and construct driveways, including block paving, gravel, tarmac, and resin.
A well-installed driveway can boost the value of your property, and it will always offer an excellent return on your investment.
A freshly-laid driveway will always boost kerb appeal and create a stylish exterior and finish.
Old driveways look messy and can cause safety issues because of slips and trips. A new driveway can provide a smooth and seamless appeal.
A new driveway will provide a long-lasting and durable surface that is weatherproof.
There are many options for a decorative and unique finish designed around your property and preferences.
Our team has over 30 years of experience in the surfacing trade, and we hold £10million AXA Public Liability Insurance for your peace of mind. Health and safety are always at the forefront of all our planning.
To book a free survey for a new driveway, call now on 0800 859 5354.
Before & After Images
Drag left or right to see the difference
We install robust CR8 tarmac driveways
Would you like a new tarmac driveway? Tarmac remains one of the most popular choices for new driveways in Carshalton. Tarmac is robust, affordable, flexible, and long-lasting. Whilst it is one of the more economical driveway solutions, it is also attractive and can be made more decorative with special edging.
Tarmac can be laid over existing tarmacadam and concrete, which is also more cost-effective and less disruptive.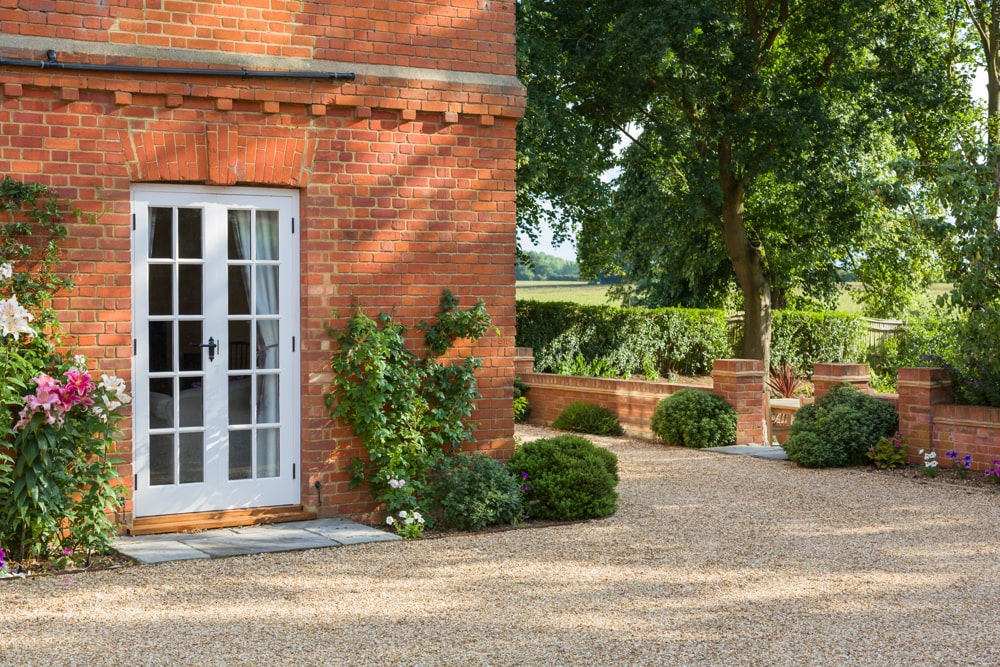 Low maintenance gravel driveways near Hackbridge
Gravel driveways have long been one of the most popular driveway options in Hackbridge or Carshalton. This is because they are very economical compared to other driveway solutions and are exceptionally low maintenance.
Our driveway contractors can install gravel driveways in many colours to complement your property and its surroundings.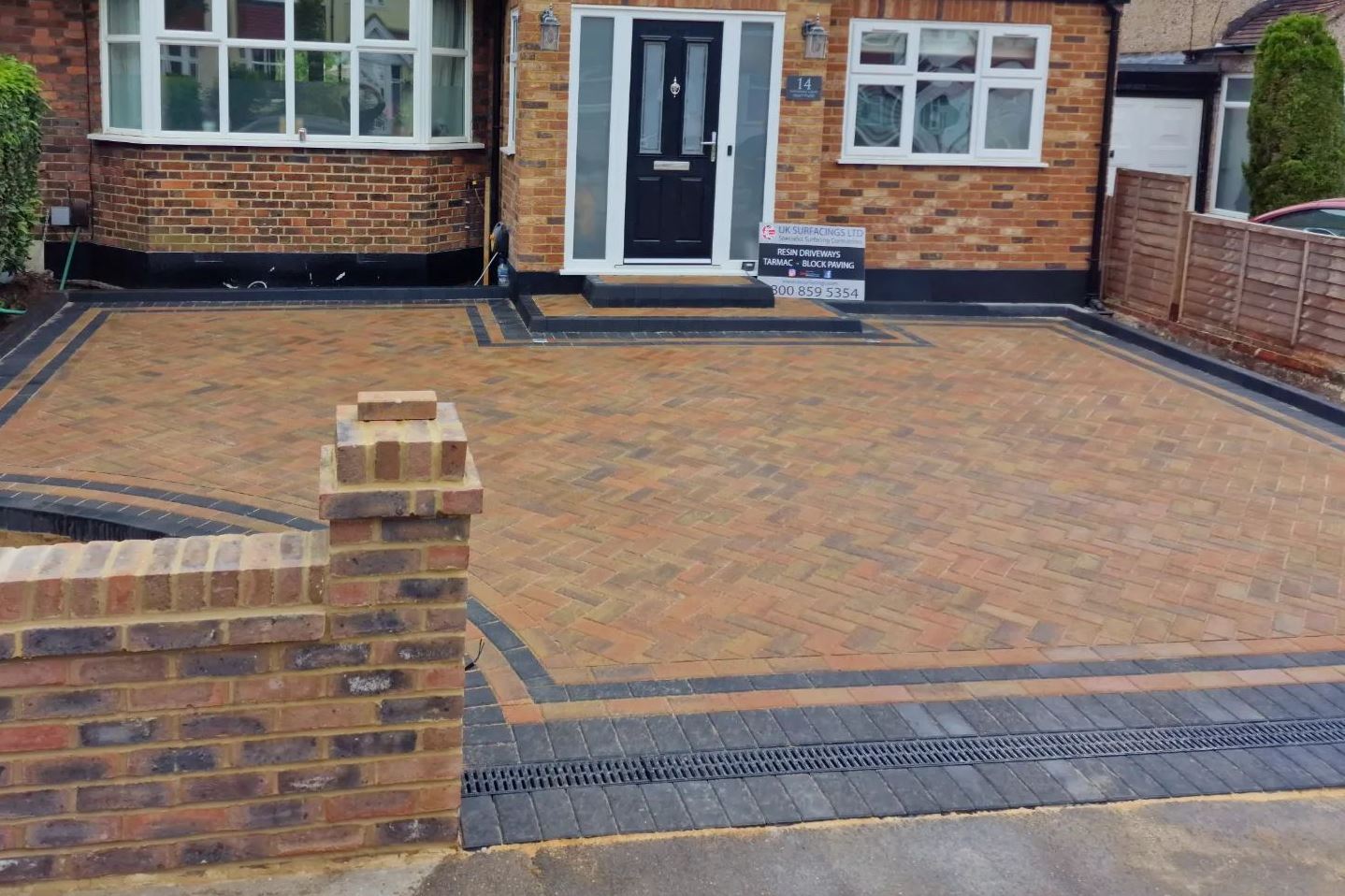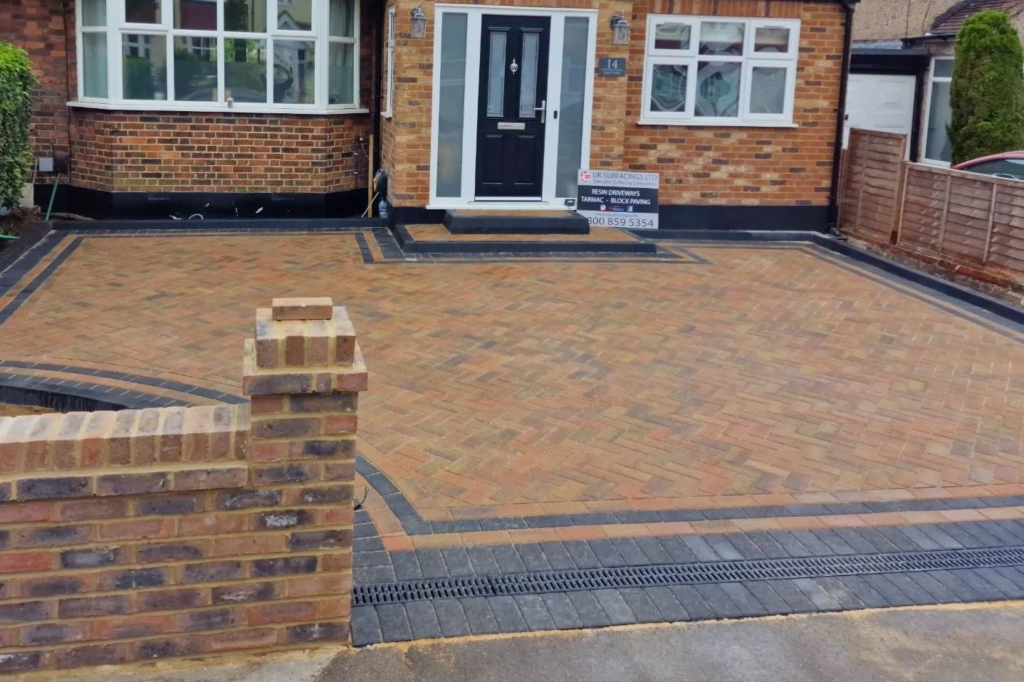 Enhance your property in Carshalton with a block paving driveway
A new block paving driveway in Carshalton can boost the value of your property and smarten its exterior. It is easy to maintain and is a very stylish option. Block paving driveways are very easily repaired because when one block is damaged, it can simply be replaced with a new one.
Our paving landscapers and block paving installers can create a unique look for your property using different colours and patterns.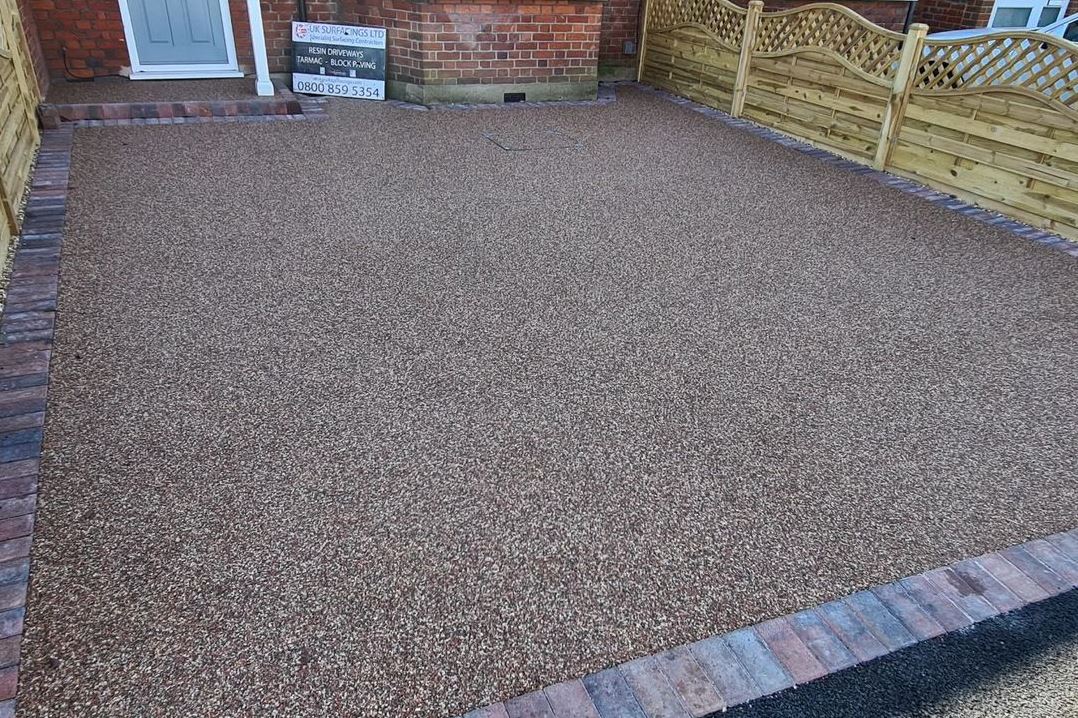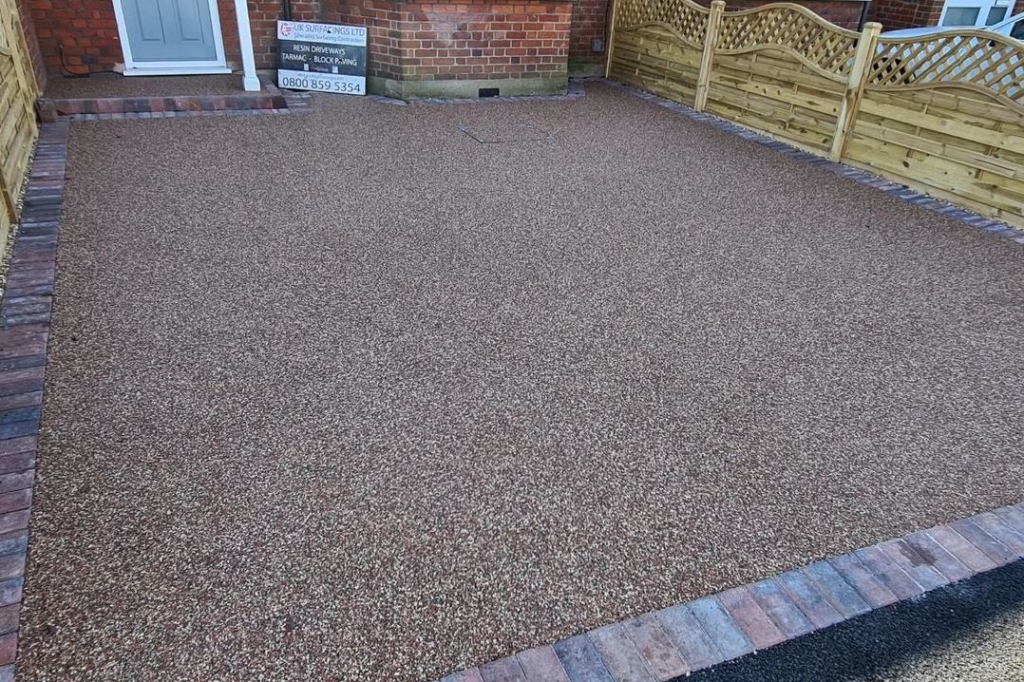 New and colourful resin-bound driveways installed in Hackbridge
If you are looking for a coloured driveway near Hackbridge, Carshalton, or South Norwood that is also smooth and slip-resistant, resin is ideal. You can mix and match colours with resin driveways to create borders and designs to suit. Read our blog: The different colours of resin driveways.
Resin driveways are permeable, so water can drain through them easily. This means that the growth of algae and moss is reduced, so the surface is safer to walk on. Resin bound driveways are also UV stable, so they will not fade in the sun or freeze. Properly maintained, resin driveways are expected to last for up to 25 years.
Commercial tarmacing and tarmac restoration services in Carshalton
At UK Surfacings, we offer a complete range of commercial tarmacing services in Carshalton. This includes surfacing for car parks, playgrounds, roads, footpaths, patios, driveways, road kerbs, forecourts and other projects.
We can also complete all types of tarmac repairs, including pothole repairs and road repairs.
Do you need professional driveway installation in Carshalton? Get in touch with our driveway contractors
Would you like a quote for a new driveway in Carshalton? Please call 0800 859 5354 or email info@uksurfacings.com
We also cover the following areas :-
Morden
South Norwood
Wallington
Browse our services below to see what we have to offer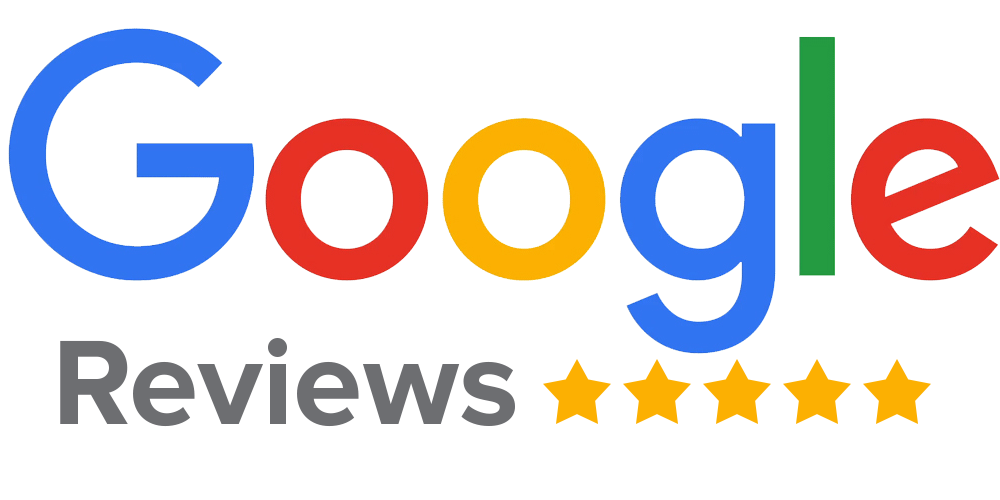 "Thank you for the job you did resurfacing our drive with tarmac. It looks really good and we were impressed with your team of workers. They work hard throughout the time they were here and prepared the ground well before the tarmac was laid. They dealt with all the details like manholes and edges and left the site clean and tidy."
"Superb job done to restore my crazy paving. Tony and his team were excellent. I will definitely use UK Surfacing again. Highly recommended :)"
"Excellent workmanship, great people to deal with – a decent family business. Lovely team who were tidy, courteous and professional. The Tarmac world seems to be rife with less than professional companies but UK Surfacings stand out for all the right reasons."
"Brilliant job! Tony kept me updated the whole way from start to finish! Big thank you to his team for the job they've done on my driveway. Absolute pleasure to deal with! I'll definitely recommend their services!"
"Excellent, professional job. Very happy with the end result – our garage entrance is quite a slope – so extra care, attention and effort was required to lay the asphalt well. All clearing and preparation of the slope was done quickly and efficiently. The 'team' were great and got on with the task in hand. (offer of couple of 'cups of tea' – that always helps too : ) I would recommend them very highly."
"Excellent service. Will definitely use again."
"Excellent service, I would highly recommend!"