How to make your driveway and gardens accessible to the disabled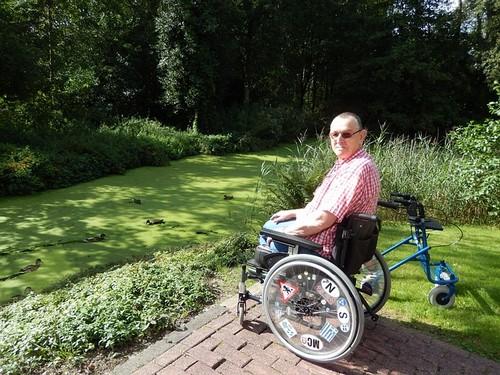 Accessibility is key for making a house welcoming and comfortable for an individual with a disability or reduced mobility. Whether you yourself, a friend or a relative experience reduced ease of movement, it is important that your home is updated to accommodate and assist the individual in everyday tasks. The initial focus may be on the interior of the home, but ensuring the entry, driveway and gardens of your property are also easy to navigate is equally important. In this article, we will be giving advice on how you can help make your home's exterior disability friendly.
Driveway
The driveway is the first thing to cross when arriving at a house and so you should ensure you consider how to make this area easy to traverse. The size and surfacing of the driveway will play a key role in whether this is easy to travel across, whether in a wheelchair or using a zimmer frame or walking stick. Cobbles, gravel and narrow driveways can all cause difficulties; to make a house more accessible, a plenty-wide tarmac or well-maintained block paved driveway will facilitate easy movement.
Even a smooth-surfaced tarmac driveway can still pose difficulties if it is on a steep gradient. Where possible, steep steps and slopes should be minimised by a professional contractor who will grade the land to level it out. At the very least, you should try to create a plateaued area which is at the same level as your entryway for getting out of the car. Where steps and slopes simply cannot be removed, providing supportive handrails will improve ease of approach.
Entryway
The entryway into a home can often involve steps or tight corners. To improve disabled access, consider building a ramp for the front door. This needn't look obtrusive – it could be finished in the same surfacing as your driveway to create a smooth, manageable and attractive entrance to your home. Further thoughtful accessories could include a low reach doorbell and door handle and ample outdoor lighting for easy manoeuvring no matter what the time of day or season.  
Gardens
A poorly designed garden shouldn't be allowed to become a barrier for those with reduced mobility from enjoying the outdoors. The simple installation of broad, even paving around a garden can make the space amenable to wheelchair users and the elderly. Solar lighting to illuminate pathways and handrails to provide support and stability can also be welcome additions to the garden.
To take your garden updates further, there are plenty of innovative ideas which can facilitate gardening for those with physical ailments. Raised flowerbeds, planters and potting benches, for example, can prevent the need for getting down to ground level, bending and straining. Combined with the range of lightweight, telescopic and ergonomic tools available, these updates can make your garden not just accessible, but a space to be enjoyed by anyone and everyone.
UK Surfacings provide a wide range of surfacing solutions for customers across Surrey and South London. With over 30 years of industry experience, we are well-placed to meet the surfacing needs of commercial and domestic clients. From resurfacing driveways to make them accessible and attractive, to repairing roads and providing line markings, all our work is carried out to a high standard by our professional team. For more information about our services, don't hesitate to contact us.