5 benefits of resin bound driveways
Thinking of replacing your driveway in Surrrey? Resin bound driveways are an excellent choice for residential properties.
Made from a mixture of aggregate stones (small pebbles, chips or crushed stone) that is then bound in a resin coating. The finished product is an attractive, smooth surface that can last for up to 25 years.
It's a versatile material that can also be used to create paths, patios, terraces and even swimming pool surrounds.
Aside from longevity and versatility, here are some of the other benefits you can expect from a resin bound driveway: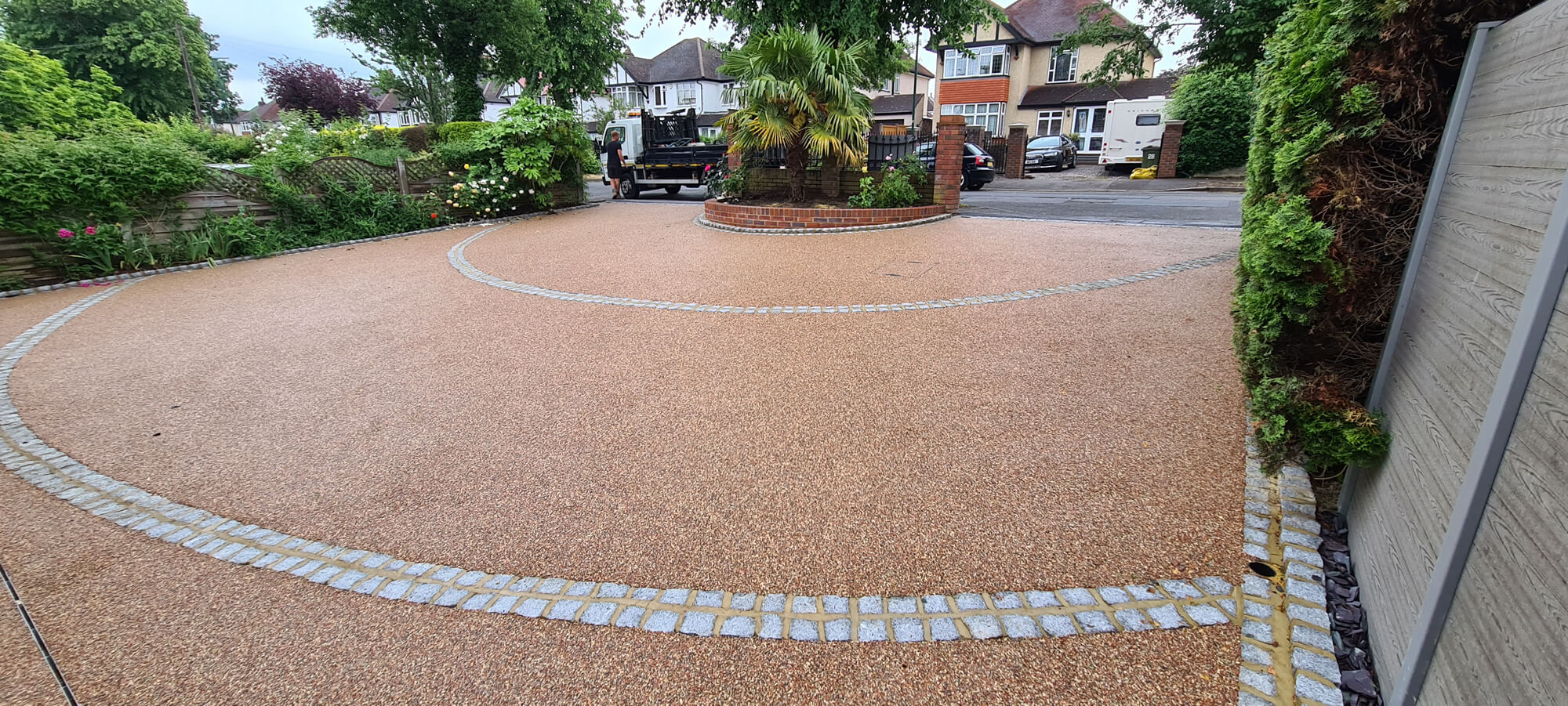 A low maintenance driveway
For an easy life, resin bound driveways are a good low maintenance choice. Occasional sweeping and washing will be enough to keep your driveway looking good and remove any accumulation of oil stains and moss. Your garden hose will probably be good enough to do the job – but an occasional jet wash will remove the really stubborn stains. Just remember to keep the water temperature low. If moss build-up is causing you problems, then there are plenty of detergents available that can help to eradicate it.
Bespoke, attractive driveways
Because gravel is mixed with resin, you can tailor the look to match your home. Choose colours and patterns that will work for your space to create some real kerb appeal. UK Surfacings can help you to design the driveway of your dreams. Chat to our friendly, expert team to discuss designs and to create your bespoke driveway.
Hardwearing resin
The durability of a resin bound driveway is down to its flexibility. The pliable surface is more or less water-tight and can withstand several tonnes of weight. It's not prone to cracking like some other materials are. Resin-bound driveways can be laid on top of pretty much any surface, but to ensure structural integrity you should check that the surface is stable. Also never wash a resin bound driveway with boiling water as it can dissolve the resin.
Smooth and slip resistant
Firstly there's no fear of trip hazards with smooth resin-bound driveways which are also considered to be slip-resistant because the surface texture resembles that of sandpaper. To create that effect, glass grit or sand can be added to the top layer before it's fully cured. Even in winter weather, the risk of ice forming is reduced because the permeable surface deters standing water which can turn to ice.
No more weeds
It's practically impossible for weeds to grow on a resin driveway – as long as it's been properly installed on a solid surface with no chance of cracking. Moss and mildew can still grow on the surface, but a good scrub with a suitable cleaning solution will remove the growth in no time.
UK Surfacings resin bound driveways
UK Surfacings expert team have over 30 years of experience in laying all types of driveways in Surrey and the surrounding areas. Contact us or call 0800 859 5354 and our friendly team will be happy to help you create a resin bound driveway tailored to your needs.