How to plan your Indian sandstone or block paving patio
Your new patio can become a fantastic feature of your home's outdoor space. A patio can be a great area of the garden for entertaining guests, having a bbq or placing furniture for relaxing on. However, to ensure this space fulfils its desired purpose it is important you put in sufficient thought and planning. Here are some of our recommended key considerations for planning a patio space.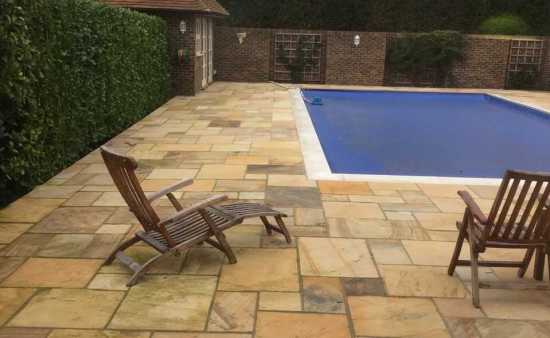 How will you use the space?
What you want to use your patio space for will inform its design considerably. For example, if you want a space to entertain guests and house a pergola then you should plan for a large area made from blocks with a smooth finish. Alternatively, if the area is to be primarily decorative, perhaps only housing a bench and some flower planters, then you could opt for a small area and decorative, textured paving patterns.
Size of space
The purpose of your patio will help you decide upon the size of the area you would like it to cover. However, you should also ensure you try to keep the patio in proportion with the size of your house and garden. Too large a patio area can make your garden look unbalanced and won't make optimum use of your outdoor space.
Shape of space
Having an unusually shaped garden doesn't limit you in terms of creating an attractive patio. In fact, unusual spaces can mean you are forced to think more creatively and can result in you ending up with a truly original and interesting design. Different layouts of paving block will suit different shapes better – for example, a grid pattern works best with a standard, rectangular patio – so you will want to consider this when designing your overall finished patio.
Level changes
Another way to add interest to your patio, or even just cleverly deal with a garden on a gradient, is to incorporate level changes. Block paving and Indian sandstone are good options for a split level patio as they both look attractive and work well for steps.
Having multiple levels can be an innovative way to segment a space into separate areas which have different uses. For example, you could have the top level dedicated to an outdoor dining area and the lower level could be a decorative level with raised flower planters and a water feature.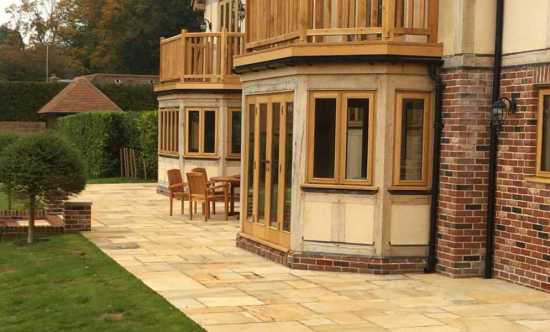 The surface
Your surfacing choice will influence the look of your whole patio and garden area and is, therefore, likely the most important choice for the project. For a high quality, attractive finish and a wide range of potential designs, Indian sandstone or block paving are great choices. These popular paving choices look good across large or small areas and are easily personalised, allowing you to choose a style to suit your tastes and home. The versatility of Indian sandstone and block paving gives you free reign over the choice of pattern, size of block, shape of block and colour.
UK Surfacings is a specialist surfacing contractor operating throughout South London. Amongst our services, we can supply and lay high quality Indian sandstone and block paving – perfect for creating beautiful outdoor spaces. Our expert team always maintain high standards of workmanship, ensuring that whatever surfacing, line marking or repair work you require, you get a long-lasting, high quality finish. For further information about our services, please don't hesitate to get in touch.