Why unmaintained road markings are dangerous
Every day thousands of motorists take to the road to shop, work and for leisure purposes. With every journey comes the necessity to 'read the road' in order to find the correct lane, avoid bus lanes or adhere to rules, such as one-way systems. Only when these road markings are in poor condition do we consider how important they are to our daily transport needs. We can all agree that well-maintained road markings are an incredibly important part of the UK's infrastructure.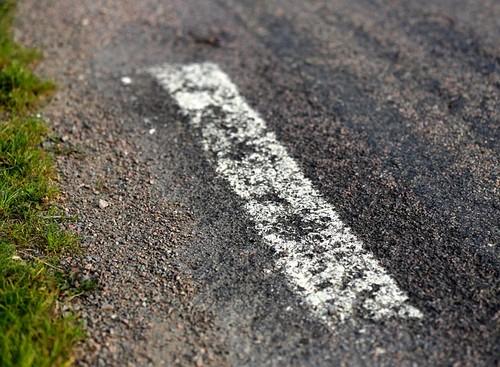 However, in 2011 the Road Safety Marking Association surveyed 1,500 miles of Britain's roads and their findings were worrying. They found that of 60 A-roads surveyed, 14% of markings on those roads were worn out, and a further 15% were in dire need of immediate replacement. Only 29% of road markings on these A roads were deemed fit to provide an acceptable standard of visibility.

Worn Road Markings
Just last month, on April 4th 2017, there was a serious incident involving three cars near Glasgow. At a junction where Craigmaddie Road meets the A807 Balmore Road, a car pulled onto the main carriageway into the path of another car due to the poor state of the give way markings. Luckily in this case, all the individuals involved including children, escaped with minor injuries.
The collision in Glasgow is the most recent incident in a slew of crashes that are attributed to the declining condition of road markings in the UK since they were last surveyed in 2008.
If the above example does not illustrate the role of road markings to the safety of drivers, passengers and pedestrians, think about how you would navigate the roads if these features were not clearly marked out:
Bus and cycle lanes

Give way lines

Instructions for pedestrians e.g. zebra crossings

Lines to separate lanes of traffic

Single and double yellow lines

Speed limits

Upcoming hazards
Surveys show that the poor condition of any of the road markings in this list affects the rate of incidents on a given road.
Solving the Problem of Worn Road Markings
It is a comparatively small investment to bring the roads back up to scratch by repainting faded road markings. Not only do fresh road markings improve road safety, they inspire pride in the local area due to their smart appearance. If you are part of a private business, you have a say in the quality of road markings around your premises. It is similar for residents of towns and villages who can form pressure groups to lobby the local authority to repaint road markings. Accident blackspots around the UK have been greatly improved due to pressure from locals. Very positive outcomes have been achieved by groups who are willing to begin talking to their councils seriously about road safety. If you suffer from worn road markings in your area, this is an option for you too.
UK Surfacings Ltd are proud to provide high quality marking services for all kinds of surfaces. Our team of professional technicians can improve the safety of your premises or facility in just a matter of hours, with a variety of different marking solutions. We lay markings such as white and yellow lining for roads, car park markings and warehouse markings, all of which will stand the test of time. Wherever you are across South London and the surrounding areas, we are confident of exceeding your expectations where surfaces are concerned. For more information, contact our team today.