Dropped Kerb Without Permission? Do You Need Planning Permission for a Dropped Kerb?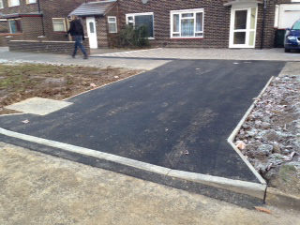 They are seen every day throughout the country, and you may pass hundreds or thousands of them on your daily commute without giving them so much as a second thought. Dropped kerbs are designed to improve access to property for vehicles, but their installation requires alterations to existing kerbs and footways.
Under the Town Country Planning Act 1990, anyone who is applying for a dropped kerb to be placed in front of their property must request planning permission if they need access on to a classified road. However, if the property that requires the dropped kerb is adjacent to a non-classified or non-principal road, planning permission is not required. The same applies to property adjacent to an unclassified road and also unadopted roads.
There are a number of standards and requirements that must be met before you can being the process of creating a dropped kerb. If you are hoping to obtain a dropped kerb, or crossover as they're also known, your front garden must meet the following requirements:
It must be 4.2m in depth
3.8m in depth if the frontage of your property is over 6.5m wide
4.8m in depth if planning permission is needed
Dropped kerbs are typically 2.4m in width, but if you are willing to share the dropped kerb with a neighbouring property then the width can be increased. There are also some mitigating factors as well as the classification of the roads that determine whether planning permission is necessary. These are:
If the property is in a conservation area
If the property is divided into flats or apartments
When a boundary wall over 1m high needs to be demolished in order for the dropped kerb to be installed
When applying for planning permission, the processing of the application works in the following way. Your property will be visited by an assessor who will make environmental observations and measure your site, at which point this information will be used to make the assessment.
Here at UK Surfacings Ltd, we are proud to offer our expertise for dropped kerb work for domestic and commercial customers. We are approved by local authorities and you can be sure that we will be meticulous and efficient in equal measure when it comes to installing your dropped kerb. We use only the best tools and technology in order to provide the perfect dropped kerb, coupling our equipment with our commitment to the highest quality service and efficiency. If you would like to know more about what we do, please do get in touch with us today and we'll be happy to help.